8 creative sexual positions to change the monotony for fun
If you clicked on this article, you probably want to add some originality to the bedroom. Now is as good a time as any to explore more creative positions. Especially if you and your partner lack electricity in the bedroom. And without being too acrobatic or intimidating, I'm here to guide you with the best sex positions creative to change things!
Corkscrew
Known as one of the best sexual positions, Corkscrew is a pleasurable position that offers tight penetration. It is classified as the best sex position in new zealand and the UK for all the right reasons. It's fun, flavorful, and effortless, like opening a fine bottle of wine.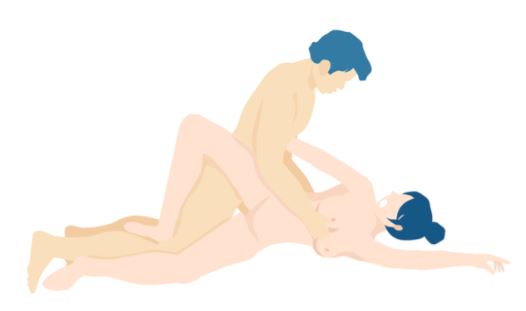 Additionally, the corkscrew position is good for reaching new angles during penetration. His giving partner enters from a crooked angle, making him easier to reach the g spot like never before.
How to do it
Your partner lies on his side with his knees bent in front of him. Your knees are at a 90 degree angle.
They can rest their head on their forearm to make this position even more comfortable.
You, the generous partner, kneel behind them.
Optionally, lift the top of your partner's leg and wrap it around your waist.
Enter from behind gently and push from one side to the other. Find the movement that is pleasurable to both of you and stick with it.
Pretzel or Cracker
Another creative sex position to try is the Pretzel. It's the second twisted sex position on our list, as it comes with the same pleasure-filled benefits as the Corkscrew, only with more intimacy.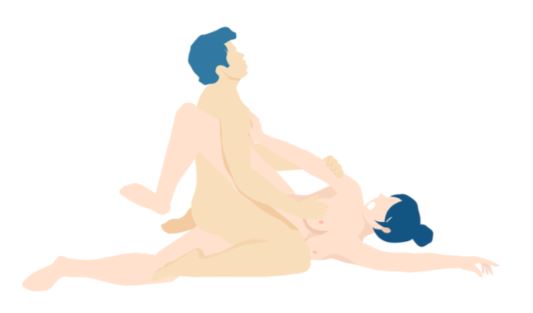 It is a more sensual position since both are facing each other. There's room for intimate eye contact, plenty of clitoral stimulation for your partner, and your arms are free to touch your entire body; as a result, giving you more satisfaction upon reaching orgasm.
How to do it
A partner lies on his back and twists his lower body to the side.
The other partner then spreads the top of their partner's leg.
Kneel between your partner's other leg. You should straddle his lower leg and rest on it.
Come in slowly from this position.
Hold on to your partner's raised leg and use it for deeper penetration.
Forklift truck
Did you ever play wheelbarrow racing when you were a kid? Essentially, Wheelbarrow's sex position is the same, aside from being the R-rated sex version, of course. It's a great position to perform when you're in the mood for a spicy challenge. All it requires is a little upper body strength.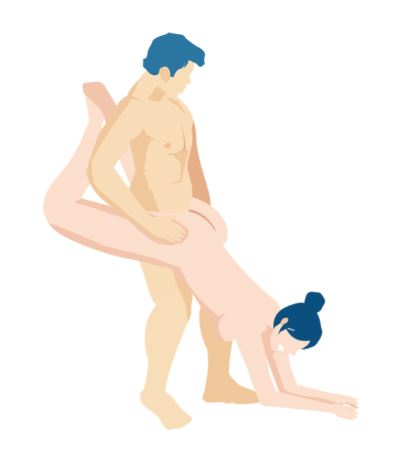 The recipient experiences stimulation in their G-spot or anus (if you go for anal sex). At the same time, the penetrating partner has room for deep penetration while getting a fantastic view of their partner's assets for intense sexual pleasure.
How to do it
His partner stands on the ground as if he were doing a plank with his entire arm.
Support your ankles and lift your legs off the ground.
Open your legs and walk slowly towards your partner.
Have them wrap their legs around your waist for additional support.
Go in from there and push from one side to the other.
Hold his hips and use them to perform deeper thrusts.
Cowboy
Your cowboy sex position is reverse cowgirl because this time, the generous partner is on top. It is an iconic sexual position, which allows you to last longer and achieve an intense orgasm.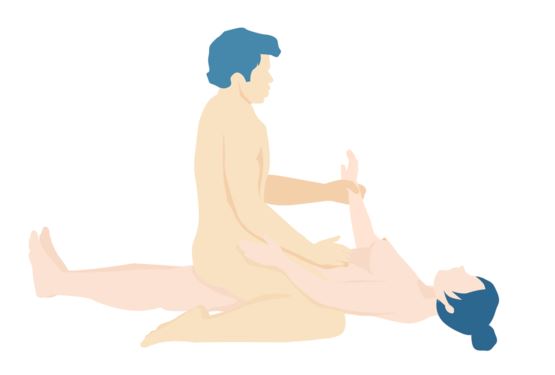 In addition, it is the perfect position to control the depth and speed of penetration. You do most of the work and your partner receives additional pleasure from clitoral stimulation while you ride them.
Plus, what's not to like about straddling your partner and showing off what your hips are capable of? It is one of the best sex positions to make you feel every inch of your partner during the natural movements of sex.
How to do it
Your partner lies on his back and spreads his legs.
Straddle your partner's body and place your knees on either side of their waist.
Use your hand to guide your penis inside.
They can move their hips back and forth while you hold on to them for support.
Do small pushes to the rhythm of his movement so that he feels very good.
betty rocker
There are many variations on the Betty Rocker position. Your receiving partner has options regarding movement in this position because he is in control. It's safe to say that this makes it a win-win situation for both of you.

As for you, you are in an effortless position, lying down and enjoying the view of your partner's butt and back. So, sit back, relax and experience the joy of receiving pleasure differently.
How to do it
A partner lies on his back and spreads his legs.
Your receiving partner kneels, facing away from you.
They straddle your body and lean forward, similar to a crouching position.
Your partner places his feet under your body.
Use your hand to guide your penis to enter your partner.
They sway from side to side sensually or bounce up and down as the upper body leans forward.
Stroke your partner's back and butt, or give him a cheeky slap when he's moving in and out of you.
the Amazon
Just when you thought sex couldn't get any better, the Amazon position exists. It is similar to cowgirl but infinitely hotter and more sensual.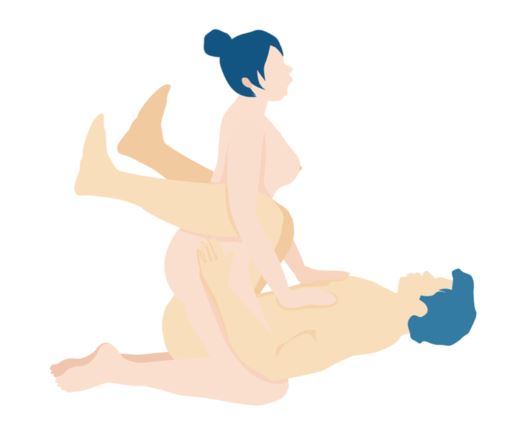 Don't get too discouraged about being in the background and letting go of control. The compensation of receiving pleasure while your partner is on top is well worth it. Additionally, there is a lot of hip action, skin-to-skin contact, eye contact, and asserting dominance in this position.
How to do it
A partner lies on his back with his legs raised over his body.
You can keep them folded as close to your chest or extend them as far back as possible.
Your partner gets on top of you and enters through there. They are sitting on the back of your thighs.
They use their legs to support their body as they bounce up and down. I suggest bouncing or moving your hips in a circular motion over thrusting to feel every inch of your partner.
Find the speed and rhythm that feels most pleasurable for you and maintain it until you both reach orgasm.
pile driver
The Pile Driver is one of the sex positions that is a little more exotic. As the name suggests, a pile driver is a repeated movement that drives something into the ground.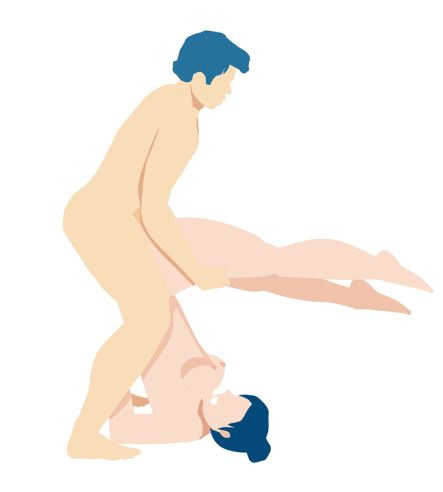 It is more commonly known as a yoga stretch position, which is the same base with the added shape of your partner penetrating deep inside you. I suggest doing this on a carpeted floor or soft surface for maximum comfort and safety.
How to do it
The receiving partner gets into a curling position with his knees close to his chest.
They slowly swing back until you create the momentum to lift your legs above your head.
They roll backwards several times until they feel enough room to lift their legs.
His lower back should be lifted off the floor as you help place his legs over his body.
Flex your toes on the floor to support your body.
With your feet flat on the floor, crouch down and enter from above. Hold on to your partner's hips and penetrate downwards.
Push in and out of them repeatedly until both can last.
Spider
And finally, the last exotic sex position on our list is Spider. It is a pose that offers intimate contact without getting too tangled like a spider web. It's a new and unique way to face your partner while having sex.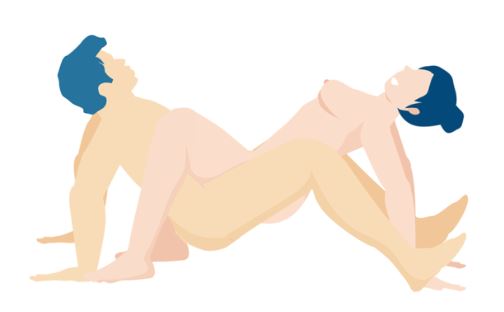 So, take a step back from squats and other intense poses by getting into a seated Spider position. It is an excellent horizontal arrangement that is sensual and provocative.
How to do it
You and your partner sitting face to face.
Stretch your arms behind you for support and lean back. They can also do the same.
They both bend their knees in front of their bodies.
The giving partner places their legs in the middle, or you can alternate the placement of your knees.
Find the position that is most comfortable for you.
Reach out to your partner and adjust accordingly.
Enter slowly and penetrate from there. Increase your speed once you find the rhythm of the movement.
There's plenty of room for eye contact and dirty talk while you're on Spider, and be sure to take advantage of that.
Conclusion
It's fun to explore exotic sexual positions from time to time to keep the spark alive. If there's one thing to take away from this article, it's to have open fun and receive pleasure in new ways that you feel comfortable with.
After all, there is nothing like discovering hot sex positions and creative to give and receive pleasure with your partner to take your sexual life to another level.
Share this article with your partner and tell each other what Favorite sex positions You feel like trying it tonight. Just make sure you have a good time while you do it.

Leo Casanova is a recognized Clinical Sexologist and General Health Psychologist expert in the treatment of sexual disorders, sex addiction, aversion to sex and ejaculation disorder.
Its main areas of work are focused on the resolution of sexual and/or couple problems and sexological research and psychological. He has collaborated with different media such as: QUO, Cosmopolitan, AS, El País Digital and IDEAL and is the author of different scientific articles published in specialized sexology magazines and in others of general circulation.
Outstanding Academic Achievements
• Official Master's Degree in Sexology.
Diploma in Technological Innovation from the University of Oviedo (2015 – 2016).
Health research methodology by the Virgen de las Nieves Hospital (2012 – 2013).
Postgraduate in Sexology from the University of Almería (2018 – 2020).
We share guides on the best online stores for sex dolls, sex toys and tips and tricks on how to use them. One of our main goals is to help people learn how to identify trustworthy sites and avoid scams.
ACS Certified Sociologist and Sexologist who takes a holistic approach to sexuality. I believe that the mind, body, heart, and spirit all interact to create our sexual experiences, for better or worse! My work focuses on the influence of attachment and trauma (big and small) on sexuality and relationships and embodied and somatic approaches to healing sexual difficulties. I am a lifelong nerd who is always learning, but more importantly, I am a human being who just wanted to enjoy his sex life.
munecasexuales.com is a place where we share guides on the best sex dolls to buy online, online stores, sex toys and tips and tricks on how to use them. One of our main goals is to help people learn how to identify trustworthy sites and avoid scams.