Review of My Holy Trainer V3 Is the resin cock cage worth the price?
Like its predecessors, versions 1 and 2 of the Holy Trainer, the My Holy Trainer V3 It is made in Switzerland to the highest standards. Every time I use this male chastity device, I imagine the Swiss Alps and the Cuckoo Clocks that the manufacturers must have surrounded themselves with. The hills are alive with the sound of… nothing, really. This cock cage is really quiet.
In this Holy Trainer V3 review, I'm going to break down the pros and cons of this high-end penis cage, talk about my experience, and help you see if it's the right chastity sex toy for you.
Pros and cons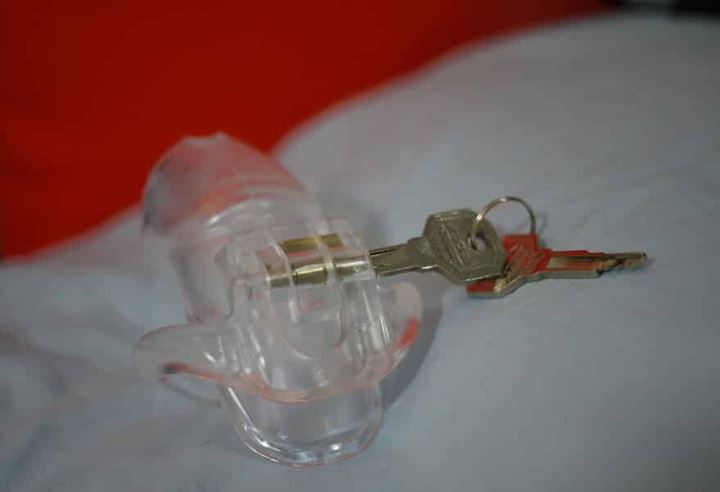 Although I think the Holy Trainer V3 is one of the best chastity devices on the market (spoiler), it is not without its flaws.
Pros
Made from bio-based 100% plastic resin – completely hypoallergenic
Plastic resin softens at 36°C (96.8°F), so it adapts to your cock in hot bath/shower
25 different customizations – 5 tubes and 5 rings to mix and match
All tubes/rings are fully compatible with each other: design your perfect cock cage
«Magic closure brass lock gets rid of noisy and clunky padlocks
The brass padlock does not rust and is TSA safe
Soft and ergonomic shape maximizes comfort and minimizes pinching at the base
Silent: does not rattle when walking
Comes with a nice travel bag included
No more spacers, pins or padlocks needed
Comes in small Nano and Nub for fans of small cages
cons
Expensivebut it's worth it for the quality
Difficult to put on and take off according to my experience
Does not have electrostimulation capabilities like some male chastity devices
Parts are not compatible with previous versions of Holy Trainer
Hard to find (high demand)
The included "user guide" is shit
For the most part, the Holy Trainer V3 outperforms its competitors and outperforms its previous versions. Many male chastity aficionados enjoy a tiny penis cage, and the geniuses at Holy Trainer have given you plenty of smaller options to choose from, including Nano and Nub sizes. Overall, this is a solid chastity device ideal for experienced/intermediate users.
If you like cages for small cocks, the Holy Trainer Nano has a penis tube length of 1.36 inches, while the Nub has a penis tube length of only 0.98 inches. I would only suggest purchasing the Nano or the Nub if you have experience with penis blocking.
Things to Consider Before Buying the Holy Trainer V3 Penis Cage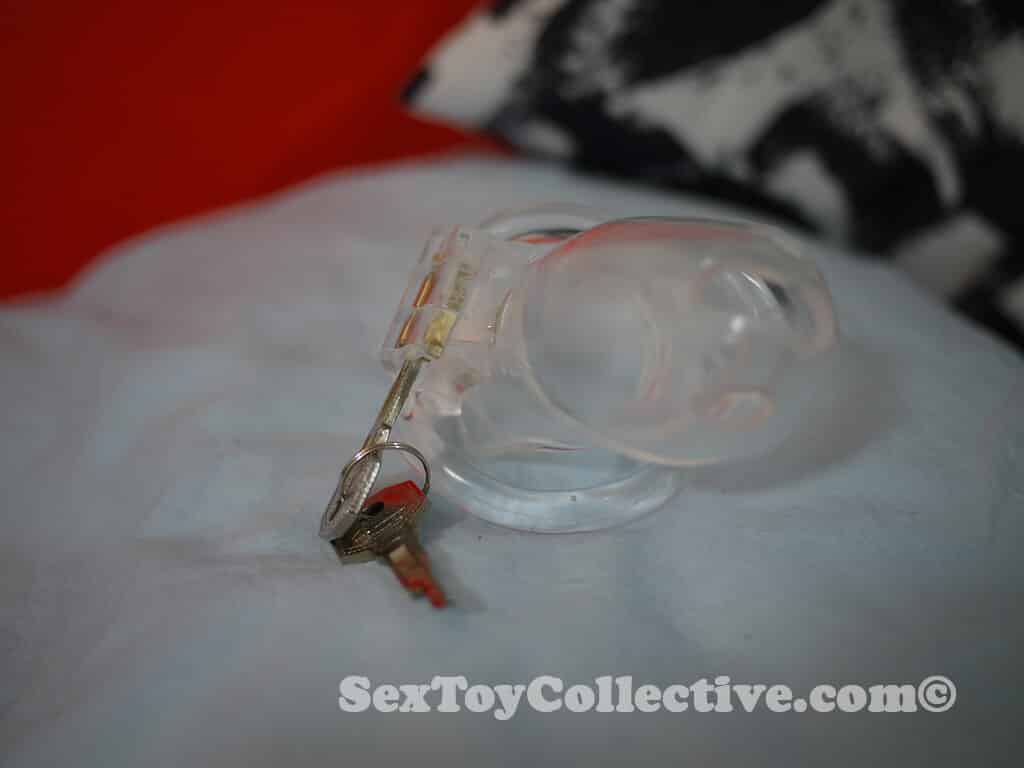 Before spending a fortune on this rooster cage, here are some things to keep in mind:
Do you want something easy to clean?
This product does not have many holes/gaps like a metal cock cage, So it is not easy to clean without removing the Trainer. The best thing to do is rinse it with hot water in the shower and use your fingers to dab in some mild antibacterial soap.
Do you need discretion?
If you want a male chastity product that is subtle and discreet, the Holy Trainer is perfect for you. The Small, Nub and Nano sizes are easy to hide under pants for everyday wear, while the lack of an external lock means this device literally makes no noise – it's compact and completely silent.
Can you afford it?
Current price of the standard set straight from Holy Trainer himself It costs 165 USD before shipping costs. This makes it $15 more expensive than the CB-6000 cock cage, one of its main competitors. However, the Holy Trainer has an overall better design to justify the extra $15.
Are you a voyeur?
Although transparent is the most popular option, the product is also available in semi-transparent colors of purple, pink and black. If you or your partner have voyeuristic tendencies, this toy is perfect for you. If you prefer your penis not to be seen enclosed, then perhaps opt for something else.
Holy Trainer V3 Features and My Experience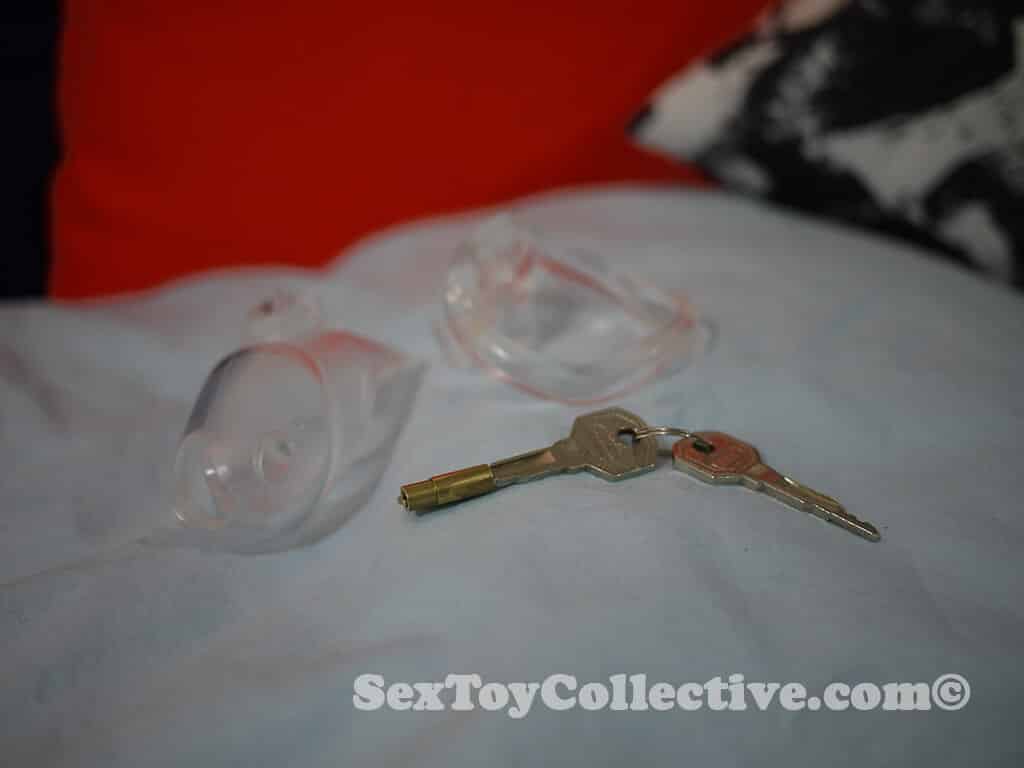 Number 3rd of the Holy Trainer version has many features and benefits not found in the other models of this game-changing cock cage. Let's take a closer look:
Customizable
When you put on a chastity device, you want it to be the right shape and fit for your penis. Unfortunately, many penis cages are limited to a couple of one-size-fits-all scenarios, which isn't ideal if your penis is below or above average in any aspect.
The Holy Trainer V3 has 5 different penis sleeves (sometimes called a "sheath" or "tube") and 5 different rings (the part that surrounds the shaft/balls) that you can combine.
These are:
Nub Cuff – 0.98 inches long
Nano Cuff – 1.36 inches long
Small Cuff – 1.75 inches long
Standard Cuff – 2.14 inches long
Maxi sleeve – 5.5 cm long
Ring sizes – 36mm, 40mm, 45mm, 50mm, 55mm
There is 25 different customization options of these rings and sleeves, making it easy to get a penis cage that is the right size for your penis.
There are websites like mature metal where you can order custom built rooster cages, but the Holy Trainer V3 gives you many customization options at a much cheaper price.
Comfort
In chastity, comfort is essential. No one wants to be locked into a device that makes them uncomfortable. Luckily, the Holy Trainer V3 is incredibly comfortableespecially after showering or bathing with it on.
You see, the plastic resin in this product softens slightly at temperatures above 36°C, so in a hot bath or shower, the Holy Trainer It adapts to the shape of your penis with greater precision. I found it especially good in the bath as you literally soak it in hot water instead of just spraying it on yourself.
A penis cage that molds to the shape of your penis... what more could you ask for?
This convenient device is ergonomic and has a smooth design, which helps reduce pinching that occurs with other products. My only qualm was that I realized that I needed some water-based lube to get my cock in properly, since before I would get the head of my cock stuck halfway inside the chamber.
Hygiene
I'm not very good at cleaning closed cock cages; I lack dexterity and fine motor skills at best. With this in mind, I would say that the Holy Trainer is a little difficult to clean while wearing it. The closed design prevents access to much of the cock head, so you just have to rinse and hope it goes well.
However, if you take it off, it is very easy to clean. Although the usual method of cleaning sex toys warm water and antibacterial soap The plastic resin is resistant to all solvents and detergents, so you could even put it in the dishwasher. In general, use soap and water.
We don't have to talk about pissing. If you want to keep this penis lock on while you pee, you're going to get some splashes. Although there are 3 different holes (including a large urethra hole) on the Holy Trainer, I personally found it hard to pee through them this without making a mess. I recommend that you sit down when you urinate, lady style.
Unfortunately, there is no easy way to piss while wearing a cage around your cock. What a surprise.
Subtlety
If you want a male chastity toy that you can wear all day without being noticed, the Holy Trainer V3 is a big shout. More experienced users will appreciate the smaller Nano and Nub sizes, which make hiding the toy in your pants even easier. However, as a skinny jean wearer, I struggled with discretion.
Sometimes you have to adapt your clothes to your penis cage.
Many of the best penis lock products make a lot of noise due to their clunky metal locks, but this is not the case with the HolyTrainer. There are no metal parts that make noise when walking: everything is plastic and the lock is well hidden. If your pants are baggy enough, no one will notice anything.
Travel insurance
One of the things I like most about the HolyTrainer is that it is easy to transport. Firstly, they give you a beautiful briefcase to store it in, along with 2 keys to store it in. The case is great to put in your bag and take on a trip, although it says "Holy Trainer – Male Chastity Device" on the side, so don't leave it visible.
As Mr. S. Leather points out in his Holy Trainer V3 ReviewThe "magic closure" of this product is made of brass, so it does not rust and can pass the TSA security check at the airport without activating metal detectors. I haven't tried it personally, so I can't confirm it, but looking at the product, I doubt it would raise suspicions at TSA.
Long-term use
Many reviewers, including renowned cock cage reviewer Deny Thumper, I think this new design of Holy Trainer makes it quite ideal for extended use. I haven't worn this device for more than a few days, so I can't personally comment on it, but the high level of customization and design of high quality They shout "long duration" at me.
The brass magic lock is also rust resistant, unlike other cheaper penis locks that can rust over long periods of time. If you are going to wear chastity devices for long periods of time, it is crucial to ensure that they can last that long without the lock rusting or becoming stiff.
Placement
I'm not going to lie, I had a hard time getting this thing on and off my penis. I ended up using water-based lube to get my cock inside and then taking a hot bath so the plastic resin would mold better to the shape of my cock.
I had a hard time putting this cage on while fighting an erection. Is very annoying. It's like your cock knows what's going on and wants one last erection.
Before using lube, I found that my cock was getting stuck against the inside of the penis head chamber. I also had a couple of problems pinching of the skin of my penis when trying to fit the penis tube into the ring, but I imagine it's the kind of thing that gets better with practice.
I recommend that you read how to place one of these devices if you are not familiar, since the "user guide" included is useless. It is literally a small page that says nothing about how to place the device. I guess they assume people already know.
If you want to know how to put on a chastity device, there are some (NSFW) YouTube videos that show you how to place Holy Trainer products. All versions of the Holy Trainer have basically the same assembly: it is very simple.
take it off
I'm not going to lie: I had a hard time removing it. I tried turning the key in the lock and it was too stiff...it wouldn't turn at all. My heart fell into my stomach and out of my ass as I imagined a trip to the hospital or to a very open-minded locksmith. Luckily, I finally managed to remove it.
Since there's no lock, it's easy to forget which way to turn the key, and you're a little afraid of forcing it in the wrong direction. I can confirm that it turns clockwise to close it and counterclockwise to open it. If you leave it on for a while, the magic lock can get a little stiff. Pull it counterclockwise (without breaking the key) and everything will be fine.
Other people's opinions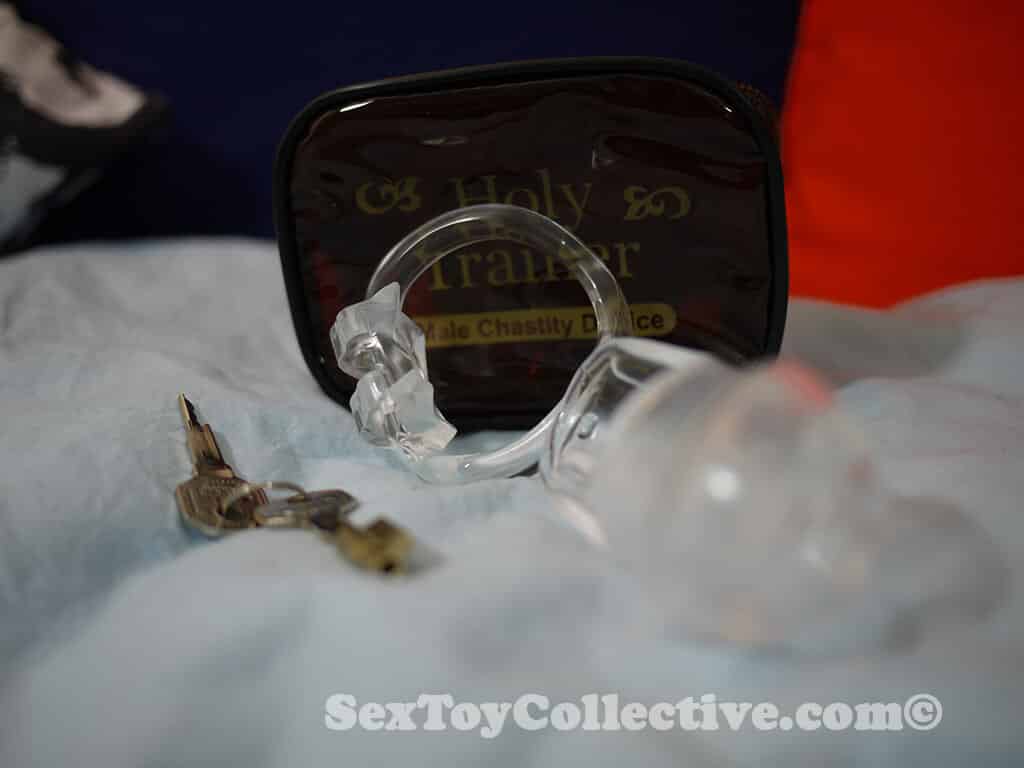 I'm just a man, what the hell do I know? As in all my reviews, here I collect some negative and positive comments from other users to see what people think. These comments are taken mainly from r/Chastity subreddit and r/SissyChastity subreddit:
Sissy Chastity is a form of male chastity in which men dress in women's clothing, shave their body hair, and wear chastity devices until their keyholder (dom/master/top, etc.) says they can be unlocked. Many chastity sissies use prostate massage to get off, as seen in the video NSFW "anal ejaculation" subreddit.
«After using it for 30 days, I can highly recommend this device. It's very well built, very comfortable and only slightly complicates things in the bathroom. I would give it an 8/10»
u/lockedupinirvine
«I bought a Holy Trainer V3 Nano for my friend before discovering the design flaw. It basically makes the cage useless. You can get out easily and accidentally"
u/Developerv_
«Overall, my wife and I are very happy with the product. I'm deciding what our options are with a custom cage but for now this is a great option. "I would definitely recommend this cage to any big guy looking for a non-custom cage."
u/tallchasteguy
«Much tighter and better than the small v2. It doesn't allow you to get hard. The protectors that move the cage away from the ring on the v2 seem to be stronger for this model. I ordered the 45mm ring and it fits better. Overall, I love it so far »
u/tlahwm
Overall, people love the convenience and comfort of the Holy Trainer V3, although I have seen many people complain about the Nano design flaw which makes it very easy to escape. Of course, you can usually escape any cock cage if you really want to, but the Nano makes it way too easy. Better try the Small or Nub sizes.
cum clusion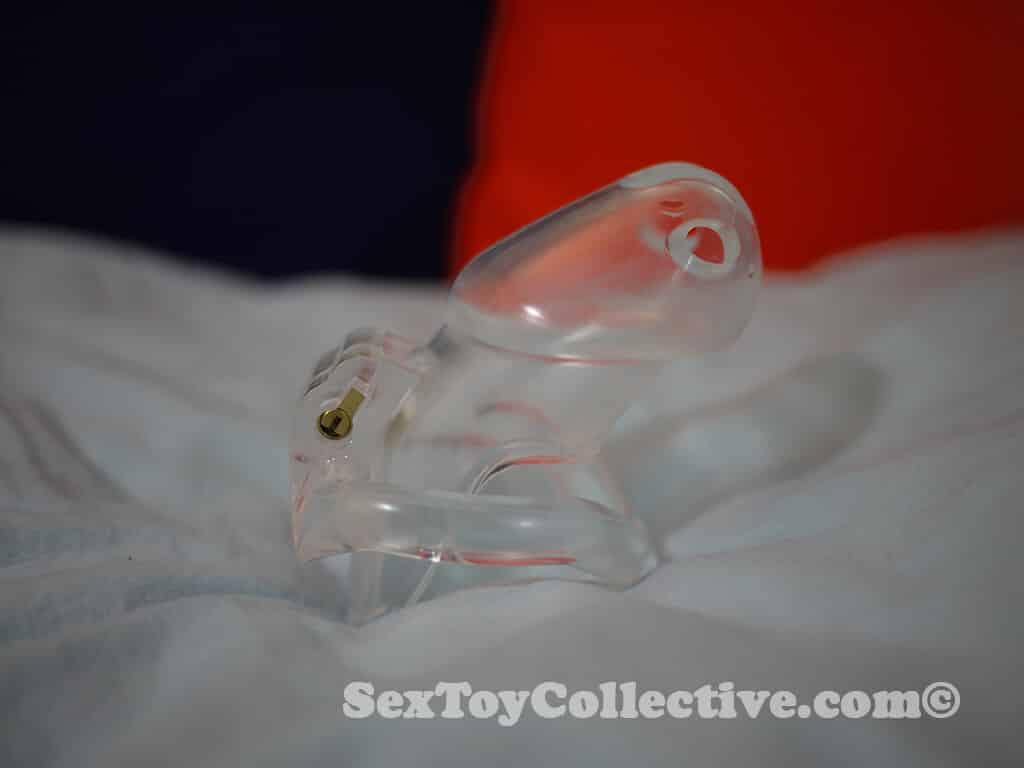 Many cock cages can be uncomfortable, noisy, and difficult to hide in your pants. However, the Holy Trainer V3 is a comfortable, silent and discreet male chastity device that you can easily wear all day without raising an eyebrow (or an erection). There are 25 different size combinations, and they even give you a size specifications guide to find the one that best suits you.
Interested in purchasing the HolyTrainer V3? Click HERE to get the best price!

Leo Casanova is a recognized Clinical Sexologist and General Health Psychologist expert in the treatment of sexual disorders, sex addiction, aversion to sex and ejaculation disorder.
Its main areas of work are focused on the resolution of sexual and/or couple problems and sexological research and psychological. He has collaborated with different media such as: QUO, Cosmopolitan, AS, El País Digital and IDEAL and is the author of different scientific articles published in specialized sexology magazines and in others of general circulation.
Outstanding Academic Achievements
• Official Master's Degree in Sexology.
Diploma in Technological Innovation from the University of Oviedo (2015 – 2016).
Health research methodology by the Virgen de las Nieves Hospital (2012 – 2013).
Postgraduate in Sexology from the University of Almería (2018 – 2020).
We share guides on the best online stores for sex dolls, sex toys and tips and tricks on how to use them. One of our main goals is to help people learn how to identify trustworthy sites and avoid scams.
ACS Certified Sociologist and Sexologist who takes a holistic approach to sexuality. I believe that the mind, body, heart, and spirit all interact to create our sexual experiences, for better or worse! My work focuses on the influence of attachment and trauma (big and small) on sexuality and relationships and embodied and somatic approaches to healing sexual difficulties. I am a lifelong nerd who is always learning, but more importantly, I am a human being who just wanted to enjoy his sex life.
munecasexuales.com is a place where we share guides on the best sex dolls to buy online, online stores, sex toys and tips and tricks on how to use them. One of our main goals is to help people learn how to identify trustworthy sites and avoid scams.