The 8 Best Sex Pillow Positions, For All Body Types And Genders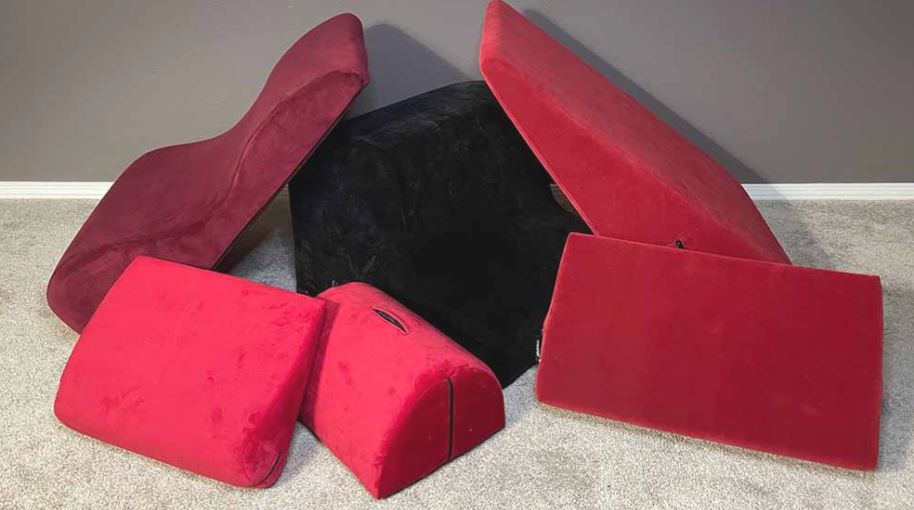 If you haven't heard of sex pillows, now is the time to look into them. Sex pillows are the ultimate bedroom accomplice to not only make you more comfortable in any sexual position, but also infinitely more pleasure during sex.
Sex pillows are mainly for raising the hips, knees or butt to help better tilt the body. In return, your partner hits all the potentially missing sweet spots in your sex life.
Once you've invested in one of your sex pillows, it's time to dive into the main act. I found the eight best sex pillow positions that can take an ordinary sex position to an A-level.
Try this while having sex with your partner or for solo riding.
Missionary
To start on our list, we have everyone's. favorite missionary position. In addition to being pleasurable and intimate, the missionary is considered a classic because it has been proven time and time again to build a strong connection with your partner.
It's intimate just being face to face with your partner. The missionary position has room for kissing, eye contact, and maximizing skin-to-skin contact.
When you introduce a sex pillow to the missionary, you take all the good things about the position a step further. So why not make yourself love missionary even more with a little help from your sex cushions?
How to do it
Take your sex pillow and place it in the center of your bed.
Lie on top of it, and it should be directly under your lower back. The pillow brings the hips to a better angle for penetration.
Open your knees and your partner gets on top of you.
Penis owners penetrate from there, thrusting in and out of you repeatedly.
lazy puppy
The lazy puppy is one of the best doggy style variations for when you want to take it easy and last longer than average. Doing this with a partner is ideal for maximizing pleasure in this enhanced sexual position.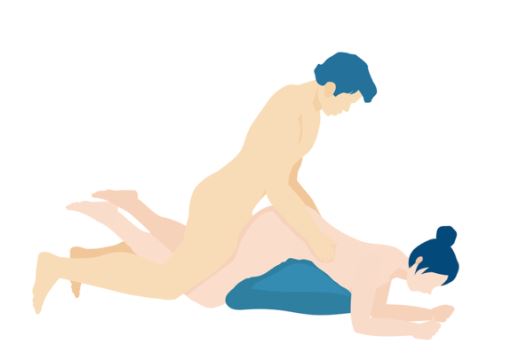 A sex wedge pillow will help lift your butt to a height that is easier for your partner to reach while lying comfortably. Your legs are held together, which creates a tension that your partner will love, especially during anal sex.
It's very sensual, and you hardly have to do any of the work. Meanwhile, your partner has you as a warm human body pillow to hug. Lazy doggy is your best option for nights of rest and pleasure.
How to do it
Place your sex pillow under your stomach below the pelvic area
Keep your legs closed.
Your partner climbs on top, directly lying on your body.
They begin to penetrate slowly and maintaining this speed. It's easier to go for deep penetration with your sex wedge under your partner's hips, hitting your partner's g-spot.
cowgirl
Another position considered the best sexual position is cowgirl. It allows women or the owners of the vulva to be in control. be the dominant in this wedge pillow position makes it easier for you to reach your G-spot and intensify your orgasm.
Also, your partner gets a great view of your body, watching it move sensually and seeing how you feel. And there is nothing sexier than that.
So go ahead and use a sex pillow to support your body and that of your partner and discover new sensations in this woman pose on top.
How to do it
The giving partner lies down and places the sexual wedge under their body.
The sex wedge should rest under the buttock and thigh area, lifting the upper legs.
Then, straddle your partner and climb on top. You can also reverse cowgirl if you prefer.
Use your hands to guide his penis inside of you.
Move your hips back and forth or around in a circular motion, whichever is most comfortable for you. Continue with the movement until you reach orgasm.
solo grinding
Moving on to solo play, we have solo grinding. Solo grinding can take you back to your teenage years when you started to explore your sexuality. It's a pleasurable masturbation position you can't go wrong with.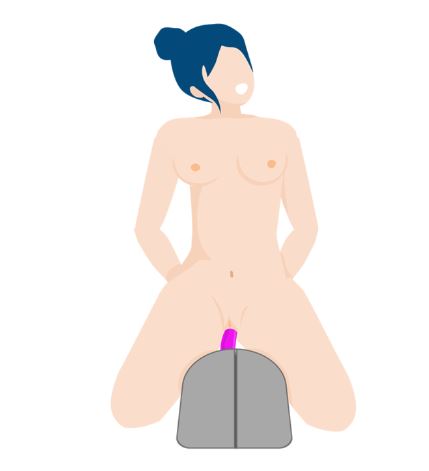 When it's a day where you want to know what to expect and please yourself in the way you like best, play solo and amp it up with a sex pillow. Bring a sex toy if your pillow has a toy holder, or use your fingers the old-fashioned way. It all depends on your preference.
How to do it
Place the pillow under your stomach in the pelvic area.
Lie on top of him and open your legs. The pillow tilts the hips up, which helps open up new sensations.
Take your fingers and bend down to rub your clit. You can grind your hips back and forth for more pleasure. If you have a vibrator or sex toy with you, now is the time to bring it.
If you have a penis, do the same: put your hand down and start masturbating.
oral sex
As if oral sex isn't great on its own – Having a sex pillow as a supporting role is one of the most amazing ideas you have ever tried. It is ideal to do this with a raised wedge pillow to fit your body more evenly. It is also interchangeable for both members of the couple (man or woman): whoever receives oral sex only has to lie on top.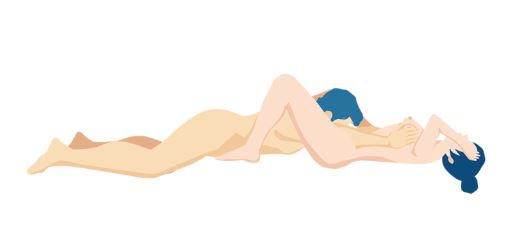 Sex wedges not only help to contour your body with the gradual sloping shape, but also help to lift your hips. This makes it more accessible for your partner to get off. Also, you feel much more comfortable lying on a support accessory.
You may think that you indirectly benefit your oral play by improving your oral performance with your partner.
How to do it
There is more than one way to use wedge pillows during oral sex.
First, lie on your back with the highest point of the sex wedge under your lower back to support your hips and legs. Your vagina or penis is now at a perfect angle to receive.
Open your legs.
Your generous partner jumps on you and gives you oral sex.
Second, you can lie on the sex wedge facing down. The highest point of the pillow is below the hips.
Do the same and open your legs. Your partner gives oral in a new angle that is more accessible.
On the other hand, if you are going to give your man oral sex, you can use your high density foam pillow to kneel on. This helps you stay in the position for longer, giving a longer lasting blowjob.
deep dive
The deep plunge is the love child or her sexual position and Seashell countertop. From the name itself, it's the perfect position to usher in deeper penetration. There is little flexibility involved. You don't have to worry about getting into a complicated pretzel position to enjoy deep penetration.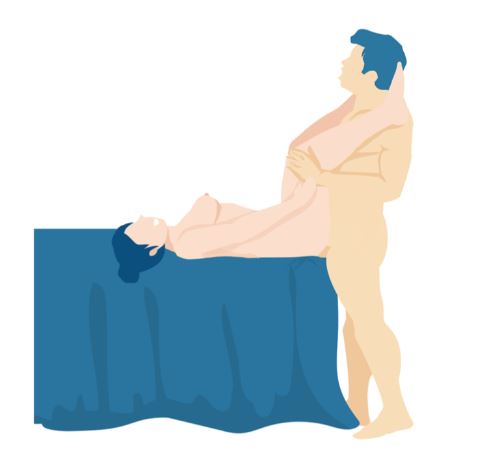 There is plenty of room for BDSM play if you and your partner are open to it, dirty talk and clitoral stimulation. For these reasons alone, it makes deep immersion one of my favorite pillow sex positions.
How to do it
Near the edge of the bed, place your sex wedges under the lower back and buttocks. If you are using a slant and raised pillow, place the top end of the slant on your buttocks.
The receiving partner bends the knees as close to the chest as possible.
Your giving partner stands directly in front of you.
The receiving partner has the option of placing their feet on their partner's chest or placing their knees on their partner's shoulders.
The giving partner starts to come in and penetrates while standing up. They push in and out of you repeatedly.
You can stimulate yourself for additional pleasure and stick with it until you climax.
69 (Oral)
We love 69 for the sole reason of simultaneously receiving pleasure. It is the best win-win scenario for everyone involved. But have you ever tried using a wedge pillow while you and your partner perform 69? If not, now is the time to do it. It's the ultimate way to bring the 69 game to its peak.

A wedge ramp pillow is ideal for 69. It is a firm pillow that is wide enough to support both bodies. You can also create your own by buying two wedge pillows and laying them out facing each other, almost like positioning aids.
How to do it
Set up your sexual wedge with the high points at opposite ends and the low points meeting in the center.
If you have the right pillow, open it up and get into position.
A partner lies in the background facing to the side. At the same time, the other partner lies on top facing the other way.
Both of you can start performing oral sex by licking, sucking, or blowing. Stimulate each other in the way you enjoy the most.
Be careful with body tails to maximize your partner's pleasure.
Standing ovation
Finally, to end on a high note, one of the best sex positions absolute absolutes with a Liberator wedge pillow is Standing Ovation. It's another position on the edge of the counter or on the bed, perfect for more adventurous sexual activities.
Standing Ovation requires a bit more flexibility than the other sex wedge positions in this article, but it's worth a try. This position creates a feeling of tightness and fullness that you will love. There is plenty of room for deeper penetration and rough thrusting.
I recommend practicing this on your bed or a low surface before exploring the standing ovation on the counter.
How to do it
Take your sex wedge and rest it on your back. Your head rests on the bed or counter.
Raise your legs in the air at a 90 degree angle. Your partner helps you maintain them by holding your ankles above your head.
You can place your legs over your shoulders to further support this position.
while standing, your partner begins to penetrate and enters you slowly. He thrusts in and out slowly before increasing his speed and depth of penetration.
Keep in mind that you must enter from the edge of a counter or your bed.
Aftercare
Sex pillows are on the low-maintenance side when it comes to aftercare. Still, it is essential to have proper hygiene and clean it after use, especially when bodily fluids touch your pillow.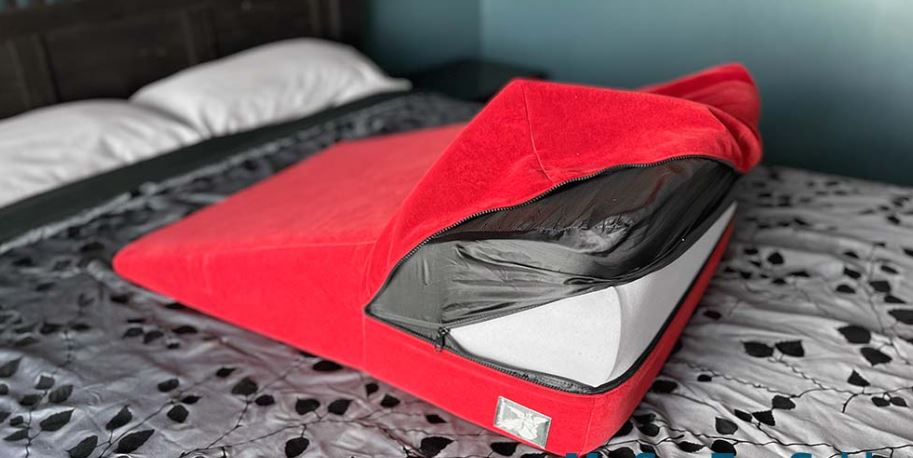 Most inflatable sex wedges or pillows have a removable cover for quick washing. Just be sure to check if it's a machine washable cover. It's that easy.
To store your pillow properly, you can fold it and store it in your closet. Or keep it on your bed, ready to access when you're in the mood for pillow sex.
Ending
Sex positions with wedge pillows are a surefire way to amplify pleasure in the bedroom. You can turn great sex into even better sex by helping your bodies get into new angles and positions.
It's the best investment you can make and incredibly versatile to use alone or with your partner. Use a sex pillow in your next session to experience a mind-blowing orgasm.
There may be many options on the market, but choose the one that's right for you and make it your new best friend. You will never go back to normal sex again. If you need help selecting the perfect sex pillowWe have an excellent guide for that!
Thanks for reading my guide to the best sex pillow positions!
Bibliographic references:
Hernandez, M. (2021). Sex pillows: practical guide for use in couples. Chair Editions.
Rodríguez, A. (2022, January 25). The use of sex pillows in sex therapy. Journal of Sex and Marital Therapy, 48(1), 32-40. Recovered from https://www.tandfonline.com/doi/full/10.1080/0092623X.2021.1955908
González, P. (2022, February 7). The best sex pillows for a comfortable experience. Sex Toys Blog. Recovered from https://www.juguetes-sexuales.com/blog/las-mejores-almohadas-sexuales-para-una-experiencia-comoda/

Leo Casanova is a recognized Clinical Sexologist and General Health Psychologist expert in the treatment of sexual disorders, sex addiction, aversion to sex and ejaculation disorder.
Its main areas of work are focused on the resolution of sexual and/or couple problems and sexological research and psychological. He has collaborated with different media such as: QUO, Cosmopolitan, AS, El País Digital and IDEAL and is the author of different scientific articles published in specialized sexology magazines and in others of general circulation.
Outstanding Academic Achievements
• Official Master's Degree in Sexology.
Diploma in Technological Innovation from the University of Oviedo (2015 – 2016).
Health research methodology by the Virgen de las Nieves Hospital (2012 – 2013).
Postgraduate in Sexology from the University of Almería (2018 – 2020).
We share guides on the best online stores for sex dolls, sex toys and tips and tricks on how to use them. One of our main goals is to help people learn how to identify trustworthy sites and avoid scams.
ACS Certified Sociologist and Sexologist who takes a holistic approach to sexuality. I believe that the mind, body, heart, and spirit all interact to create our sexual experiences, for better or worse! My work focuses on the influence of attachment and trauma (big and small) on sexuality and relationships and embodied and somatic approaches to healing sexual difficulties. I am a lifelong nerd who is always learning, but more importantly, I am a human being who just wanted to enjoy his sex life.
munecasexuales.com is a place where we share guides on the best sex dolls to buy online, online stores, sex toys and tips and tricks on how to use them. One of our main goals is to help people learn how to identify trustworthy sites and avoid scams.