Lelo Hugo Opinion – Is this prostate vibrator worth paying for?
He Lelo Hugo Prostate Vibrator is a new remote controlled prostate massager from the erotic toy manufacturer Lelo. The product's ornate black and gold box tells you that this remote controlled prostate vibrator is a "global best seller" that uses "SenseMotion technology" to enhance your prostate play moments. But what does this technology consist of? Can it give you a hands-free prostate orgasm? I set out to find out.
Pros and cons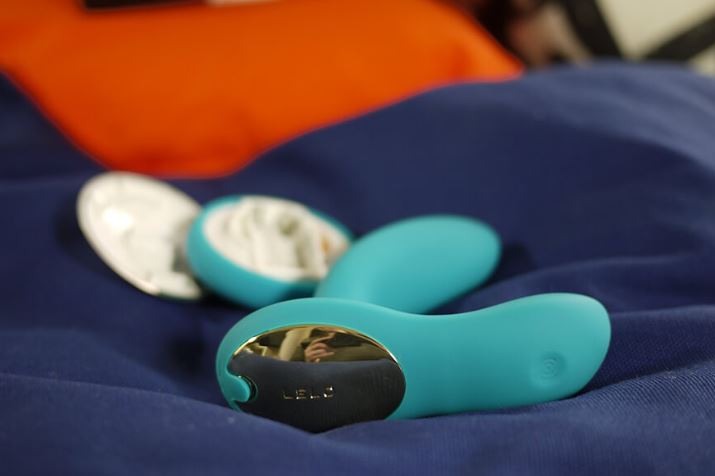 Let me start this review by listing my pros and cons about the toy before going into more detail.
Pros
Exclusive SenseMotion remote control technology
Wireless remote control: very comfortable
Perfect size and shape for prostate stimulation
2 hour battery life (approx.)
Velvety silicone coating high quality
Simple and intuitive controls
Incredible pre-programmed vibration settings
It stays in the ass quite easily
Send intense waves of pleasure throughout your body
With 1 year warranty Lelo
cons
The shiny plastic of the remote control and the base of the toy looks a bit cheap
SenseMotion modes can get tiring after a while
The remote control uses batteries (what is this… the 90s?)
I wish it was slightly adjustable
As you can see, the pros far outweigh the cons of the Lelo Hugo. And now, to continue with the review!
Wireless remote control and SenseMotion technology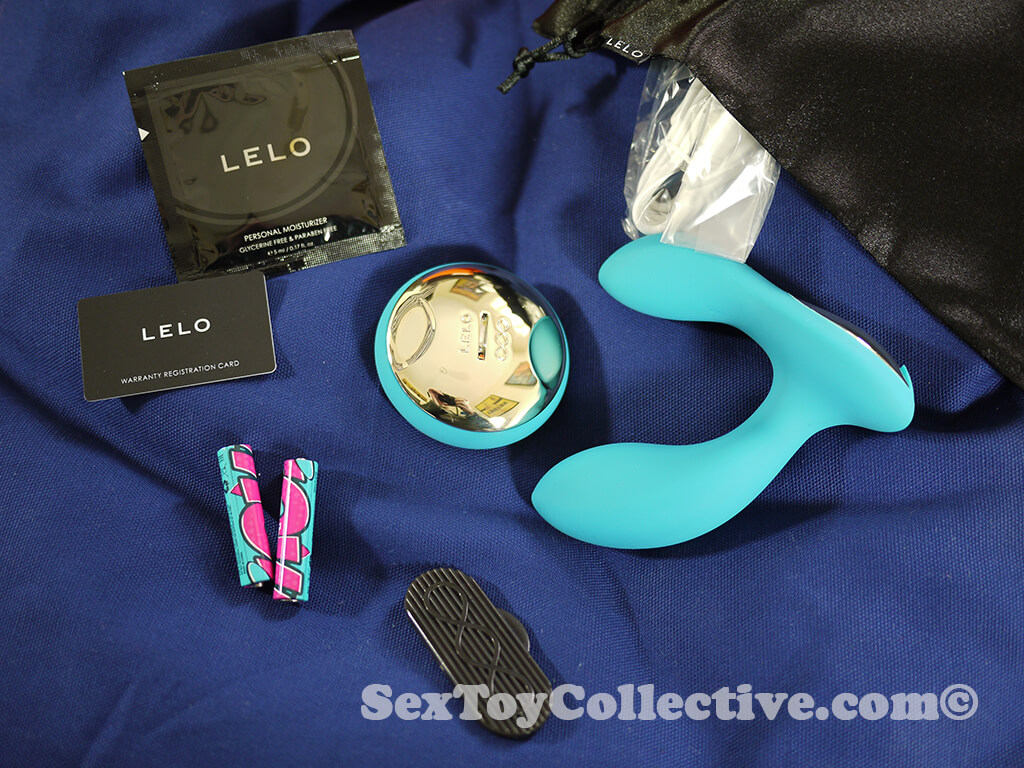 Lelo's remote control is a bit tricky to assemble at first, requiring a couple of AAA batteries and a special plastic key to open it. I can't say exactly what the battery life of the remote is, but I've used it for several hours and it hasn't run out yet.
When I read that I would need AAA batteries, I was furious, but then I saw that Lelo had included a couple of batteries in the box, so I forgave him in my infinite benevolence. Although it's probably best to have a couple spare batteries around the house.
The wireless remote is a bit strange, because the silicone coating on one side looks very high-quality, while the glossy plastic cover on the base looks unbelievably cheap. It's a bit of an odd pairing, but it looks good.
Once up and running, it's very easy to connect to the toy and get going. Use the center button to cycle through the different vibration patterns and the plus and minus buttons to change the intensity of the vibrations. And that's it. It is not science fiction, it is very easy to control.
Prostate vibrators like the Aneros Vice 2 are let down by their crappy remote controls, while the Lelo Hugo's fancy remote is sleek and intuitive, ignoring that cheap, shiny plastic.
SenseMotion Technology
SenseMotion Technology refers to the motion sensors hidden inside the remote control. There are 2 SenseMotion settings on the remote:
– SenseMotion Mode 1 allows you to tilt the controller for different intensities. Straight up = 100% of vibration, while flat = 10% of vibration.
– SenseMotion 2 Mode responds to your jolts of the remote control. The harder you shake the remote control, the more vigorously the Lelo Hugo prostate massager will vibrate
These SenseMotion control settings are fun, especially the first mode, where you just have to tilt your hand slightly to increase or decrease the vibration power. It's a bit like the infamous "thumbs down" from Gladiator, but with prostate stimulation. Comfortable is secretly having a good time when the camera zooms out.
The second setting is interesting, but it's very easy to tire your hand out, especially if you really want to up the ante and go for vigorous vibes. reminds me of that South Park Weight Shake Episode. Your biceps will be amazing after using this mode for a while.
Lelo Hugo vibration settings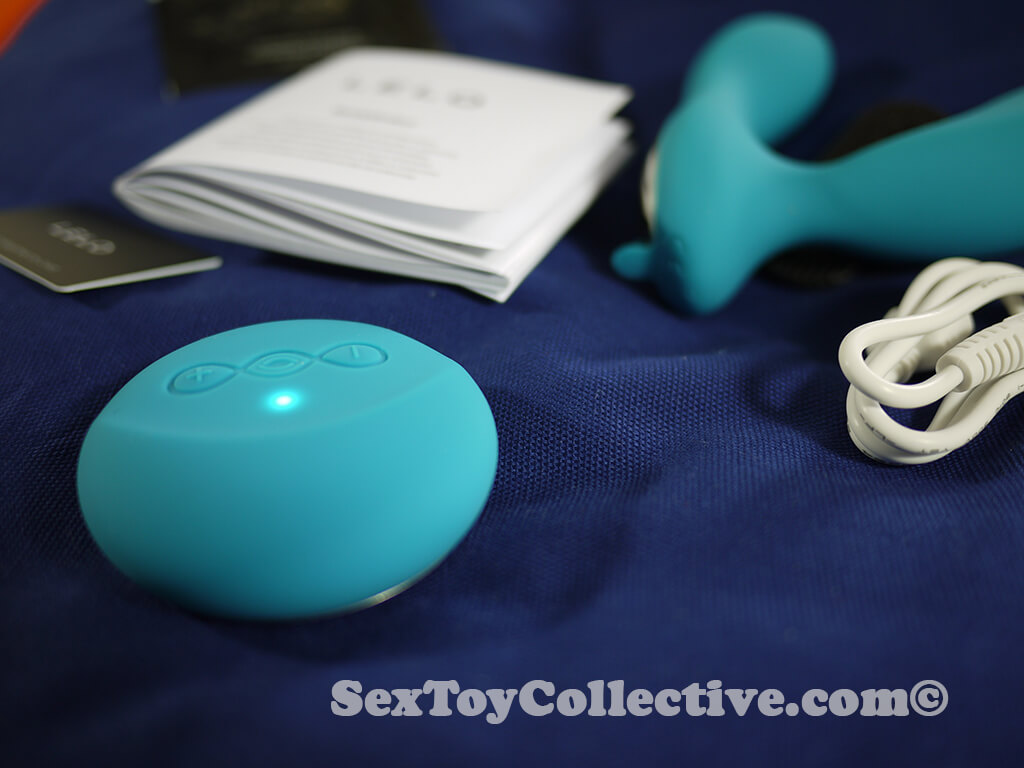 This medium-sized Lelo prostate massager comes with 2 vibrating motors on the prostate arm and perineal arm, giving you double stimulation of the prostate, both internal and external. It's something we expect from modern prostate toys, especially ones as prestigious as the Lelo Hugo Prostate Massager.
There is 6 pre-programmed vibration modesall of them pretty good. The intensity of each of these 6 vibration modes can be changed simply by pressing the up and down arrows. This means there are dozens of potential combinations to explore.
There are a couple of "pulsing" settings, a couple of constant vibration settings, and a couple of "gradual up and down" vibration settings. It's not much, but it does the job. Of course, the main star of the show is the motion-sensing remote, but I'm too lazy to use it all the time.
How big is the Lelo Hugo prostate massager?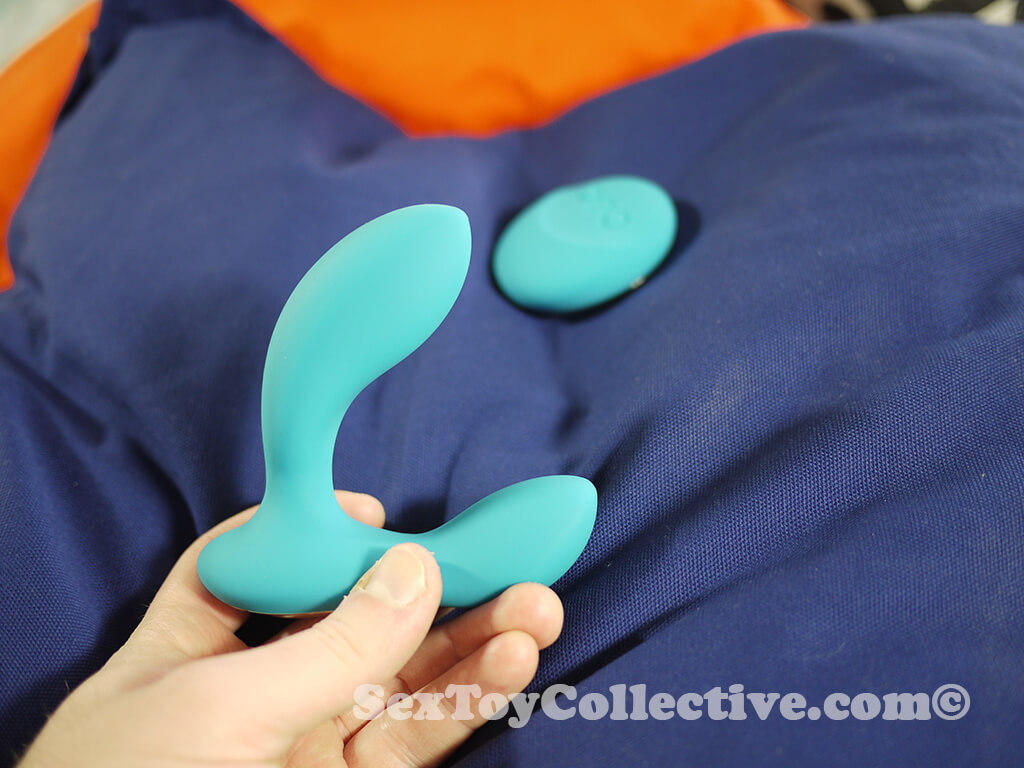 The Lelo Hugo is a mid-size vibrating prostate massager, and I wouldn't have it any other way! Some of his fellow Lelo prostate toys, like the Lelo Loki Wavethey suffer from bulbous heads that are too big to fit comfortably inside your butt – the Lelo Hugo doesn't have this problem at all!
When I tried it out for this review, the Lelo Hugo stayed perfectly inside my ass. Not too short, not too long, not too bulbous, just what I needed. I am the Goldilocks of male sex toys.
I had a couple of problems with the toy slipping out when my sphincter contracted, but if I forced myself to relax and enjoy the ride, I was usually able to keep the toy in with no major problems. A big part of P-spot pleasure is learning to relax your sphincter/kegel muscles, regardless of the toy.
When it comes to prostate play, bigger isn't always better. Our Prostate Milking Guide goes into more detail if you're relatively new to prostate massagers.
Like all male prostate toys, you have to make sure the angle is just right, with the main arm of the toy curving upwards, as if it's pointing towards your stomach. If you need help finding the prostate, there are lots of great guides on how to find the prostate I personally found this toy to be best used on your back with your knees slightly bent in the air, but everyone is different.
According to LoveHoney, the Lelo Hugo is coated in high-quality, silky silicone. It is the same material that many Lelo prostate massagers are made of. The smooth feel of the coating makes it even easier to slide the toy inside of you, but keep in mind that it can be a chore to clean. We'll talk about that later
My experience with Lelo Hugo
In general, I really liked this male sex toy. Obviously the main gimmick is the SenseMotion remote control technology, but aside from that for a moment, this is a really solid prostate vibrator in its own right. It's not too big, it's made of high-quality materials, and it comes with a wireless remote control so you don't have to fumbling with buttons on the toy itself.
Personally, I really liked the pair of "pulse" vibration settings on this toy. I found these settings, with medium intensity vibrations, to be really effective for sending... P waves all over my body. As soon as I feel the pleasure radiate down my legs, I know I've won. Fortunately, it didn't take me long to get that feeling!
The pulse adjustments reminded me of being anally fucked. If you like the feeling of receiving anal sex, you'll love the intense sexual pleasure it provides.
With many prostate massagers, you have to mess around changing positions and trying different things before you get results. I didn't have that problem with Lelo Hugo! In a couple of minutes I felt perfectly. If you play your cards right, I bet you could get a no-hands prostate orgasm from this thing.
I've only had 1-2 hands-off prostate orgasms in my entire life, but I can say from experience that this toy could do it if you were in the right frame of mind. It's intense!
Of course, I can't review the Lelo Hugo without talking about the SenseMotion remote control settings. Personally, I found the "tilt" setting to be my favorite as it required much less effort to get a very loud hum. The "shake" setting was better for reproducing a pulsating vibration pattern on demand, but obviously your hand tires very quickly.
The only thing I did notice was that the "shake" setting was a bit temperamental - sometimes I would shake the remote too gently and the toy wouldn't do anything. You have to be pretty energetic if you want the remote to detect you. I usually warmed up with the SenseMotion modes before moving on to the pre-programmed vibration patterns. Again, I'm lazy. sue me.
Cleaning and maintenance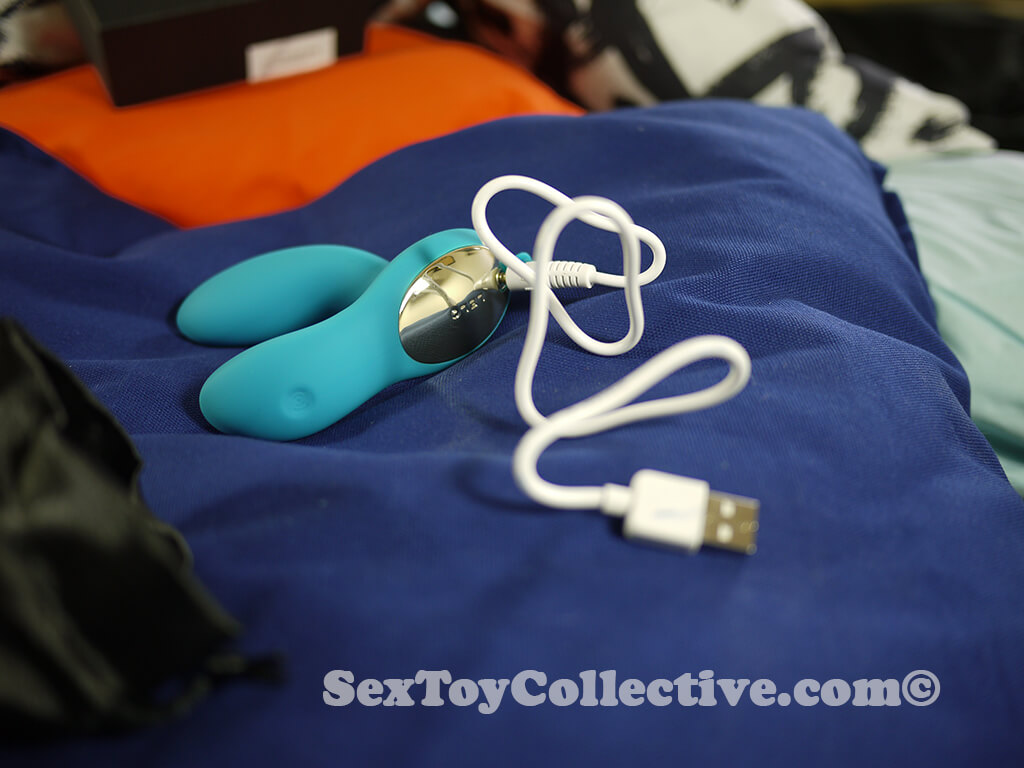 Cleaning
Like most of Lelo's male sex toys, cleaning the Lelo Hugo is really easy. recommend your Lelo toy cleaner spraybut you can also save money by using hot water and antibacterial soap. I like how Lelo herself expresses it in the instruction manual: "wash the stem with lukewarm water and a respected antibacterial soap" I like the idea of "respected" soap that walks around bumping fists with the people of the town.
Once you've cleaned the toy, dry it with a clean towel; This silicone is not the kind that takes hours to dry.
I must point out at this point that the Lelo Hugo is waterproof, so there is no problem using it in the shower. However, the charging port has a small soft cap that you need to cover it with before exposing it to water. For this reason, I would avoid using it in the bathtub or completely submerging it in water. It may be totally safe to do so, but I wouldn't risk it.
USB charging
The USB charging of the toy is really easy and convenient: just remove the soft cover, then insert the USB charging cable and connect it to the device of your choice. After charging this toy for about 60-90 minutes, you will get about 120 minutes of prostate play time. It's a really decent battery life in my opinion. As already mentioned, the remote requires 2 AAA batteries, so keep some on hand.
Some reviewers have complained about having to wait 60 minutes for this thing to load, but unless you're literally sitting around watching it load, I'm sure you'll find a way to pass the time.
Lelo guarantee
Like most of Lelo's sex toys, the Lelo Hugo comes with a 1 year warranty. Just enter the serial number of the included warranty card on Lelo's website, and if you have any problems within 12 months, Lelo will exchange your sex toy for free. Lelo also has a 10-year warranty, so if your sex toy fails outside the warranty period, you can get a discount of 50% on a new Lelo sex toy. Great!
cum clusion
I hope you liked this review of the Lelo Hugo Prostate Massager Although this male toy is known for its unique SenseMotion remote control technology, it is actually a very well designed prostate vibrator in its own right. Plus, it comes with a handy wireless remote control, so you can switch between your favorite vibration settings without having to kill the itch or reach awkwardly with your hands.
The batteries in the remote and the cheap plastic cover let the Dimwit Hugo down a bit, but who cares if it turns you on so well? Not me

Leo Casanova is a recognized Clinical Sexologist and General Health Psychologist expert in the treatment of sexual disorders, sex addiction, aversion to sex and ejaculation disorder.
Its main areas of work are focused on the resolution of sexual and/or couple problems and sexological research and psychological. He has collaborated with different media such as: QUO, Cosmopolitan, AS, El País Digital and IDEAL and is the author of different scientific articles published in specialized sexology magazines and in others of general circulation.
Outstanding Academic Achievements
• Official Master's Degree in Sexology.
Diploma in Technological Innovation from the University of Oviedo (2015 – 2016).
Health research methodology by the Virgen de las Nieves Hospital (2012 – 2013).
Postgraduate in Sexology from the University of Almería (2018 – 2020).
We share guides on the best online stores for sex dolls, sex toys and tips and tricks on how to use them. One of our main goals is to help people learn how to identify trustworthy sites and avoid scams.
ACS Certified Sociologist and Sexologist who takes a holistic approach to sexuality. I believe that the mind, body, heart, and spirit all interact to create our sexual experiences, for better or worse! My work focuses on the influence of attachment and trauma (big and small) on sexuality and relationships and embodied and somatic approaches to healing sexual difficulties. I am a lifelong nerd who is always learning, but more importantly, I am a human being who just wanted to enjoy his sex life.
munecasexuales.com is a place where we share guides on the best sex dolls to buy online, online stores, sex toys and tips and tricks on how to use them. One of our main goals is to help people learn how to identify trustworthy sites and avoid scams.