Come here Vibrator! Review about Lelo Loki Wave
He lelo loki Wave is hands down one of the most unique prostate massagers I've come across, and I come across a lot of men's prostate toys in my work. The "wave motion," also known as the "come here motion," is designed to gently stroke your P-spot, similar to a prostate massage performed with your fingers.
But is the Lelo Loki Wave worth the price? Is this "vibrator to get here" close enough to orgasm? Let's get down to business!
Advantages and disadvantages of the Lelo Loki Wave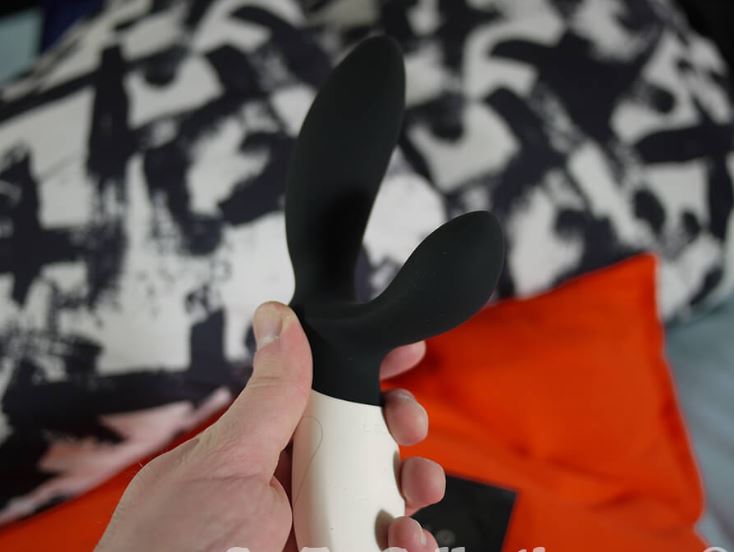 As with most of my reviews, I'm going to put my cards on the table before going into the details of this Loki Wave review.
Pros
the movement «Come here» is a unique sensation
Multiple vibration modes: with and without the "come here" setting
Dual vibration motors for internal stimulation of the P Point and external stimulation of the perineum
Excellent vibration settings, from very soft to very intense
Sleek design and soft silicone exterior high quality
Many different ways to apply pressure to the prostate
Includes 1 year Lelo warranty
USB charging
100% waterproof
cons
"Come here" movement is not customizable: speed and movement are always the same
-the "Come Here" engine is not very quiet or discreet
Its large size makes this toy difficult to keep inside the ass
Perineum arm could be longer
Control panel is not very intuitive (but looks like it should be)
The lack of remote control is annoying (the controls are on the handle of the toy)
I found it beautiful and unique, but I was not enthusiastic
Overall, this Lelo Loki Wave review is a mixed bag. The "come here" motion makes it one of the most unique male sex toys I've ever used, but I'm not sure it's the best prostate massager ever. Still, there are some things about Wave Loki that really turned me on!
movement come here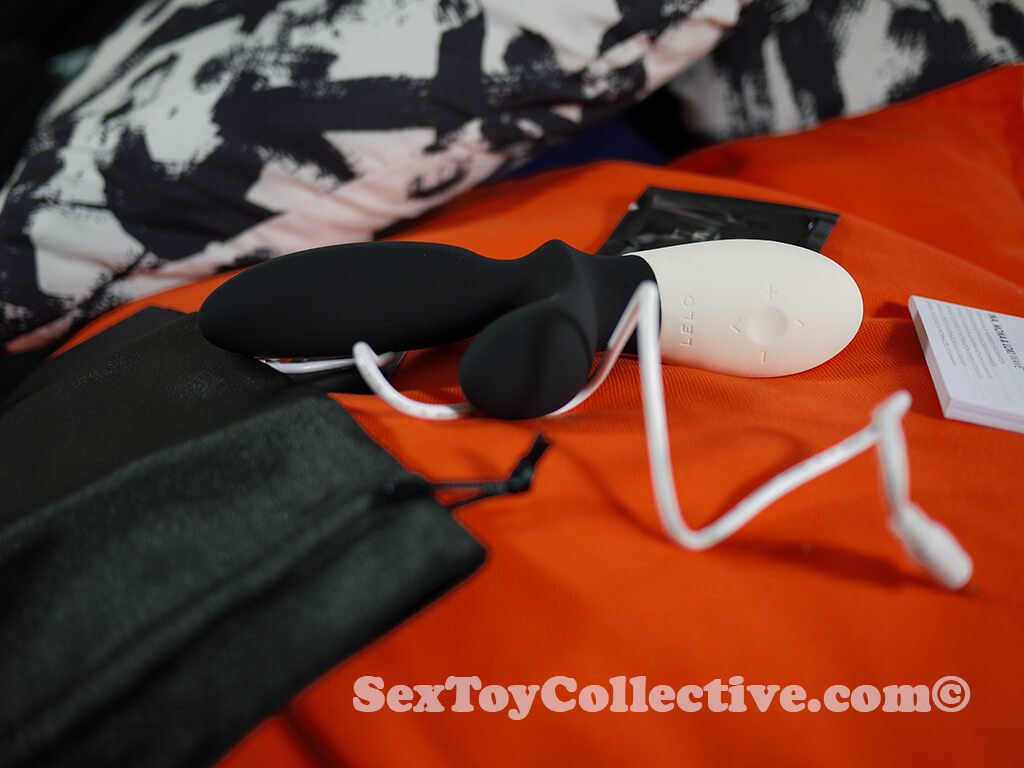 You'll soon get sick of the words "come here." Sorry in advance.
I can't talk about the Lelo Loki Wave not to mention the "come here" or "wave" movement that makes it so unique. For the most part, this toy is in the typical shape of a prostate massager: a large end that goes inside your butt and a smaller end that massages your perineum (spot/gout) externally.
However, the toy features special motors that cause it to rotate back and forth inside you, caressing your P-spot. This is combined with powerful dual vibrators on the arms of the prostate and perineum, which provide internal stimulation and that we expect from modern prostate play toys.
The "wave motion technology" used in this Lelo prostate massager is the same technology used in the best-selling Ina Wave and cute wave sex toys for women
There doesn't seem to be much variation in the swaying motion: the toy moves back and forth at exactly the same speed, pace, and distance. You can change the vibration patterns that occur at the same time, but you can't change the wave motion itself, other than simply turning it off and selecting a setting that has vibrations without the motion.
This lack of customization is disappointing, but I can forgive it for now. I hope that in the future Lelo will make a prostate toy with more variations in the wave motion.
The "come here" setting is fine, but I'd be lying if I said it surprised me. Combined with some nice vibes, I was washed over by nice waves of sexual ecstasy, but not in the way I expected. It is certainly a different sensation than the typical prostate massager.
There is a setting that includes the zoom movement without any vibration, and it was a truly unique experience. It was a bit like being fingered or getting a prostate massage from a stranger. I found it very erotic to lay back, let Wave Loki caress my P-spot and imagine a sexy stranger fingering me without the creepy vibes.
Sex toy companies for men are obsessed with putting huge vibrators in their prostate massagers, but as I said in my Aneros Vice 2 review, you end up numbing your P-spot if you hammer it with strong vibrations all the time.
One thing to note with wave motion is that it's not very quiet. Instead of the quiet hum of a vibrator, it's a very obvious repetitive mechanical sound. If you're trying to be discreet, you'll have a hard time keeping the "come here" engine sounds muted with this toy. Even with vibrations turned off, the sounds of the wave motion alone are VERY noticeable.
Vibration settings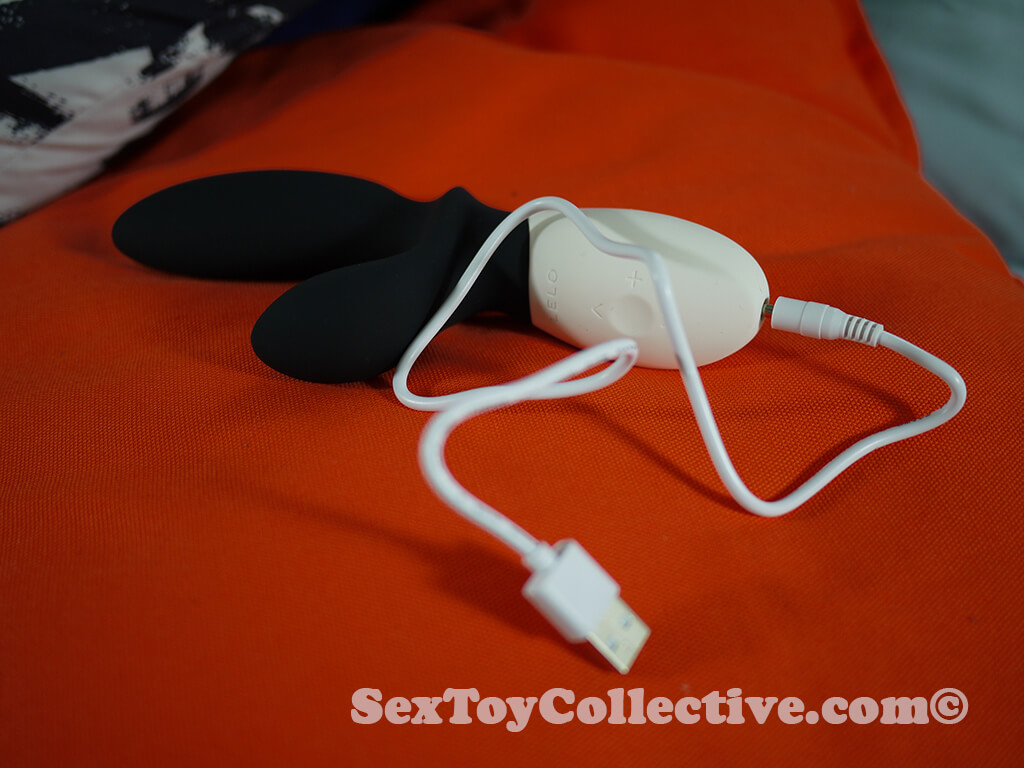 If you like a prostate vibrator with many variable intensities, this is your toy. You can go from a soft hum to a bone-chilling rumble, if that's what you like. Dispose of 10 different stimulation modes through which you can pass, all of them usable with different intensities.
Like I said before, the toy comes with dual motors for the perineum arm and the prostate arm, so you get dual internal and external stimulation. In my case, the arm of the perineum was not long enough, so it was difficult for me to enjoy the sensations of the perineum. I am quite a tall man so this may not be a problem for smaller men.
The vibration settings of the Lelo Loki Wave can be used alone or with the "come here" movement, although I would say that it might be too much power to have all these motors spinning at once. Personally, I liked using the vibration modes separately or the "come here" motion separately, as all at once felt like an overload of stimulation.
I like to think my ass is hard, but 3 different motors spinning inside it can be overwhelming!
My experience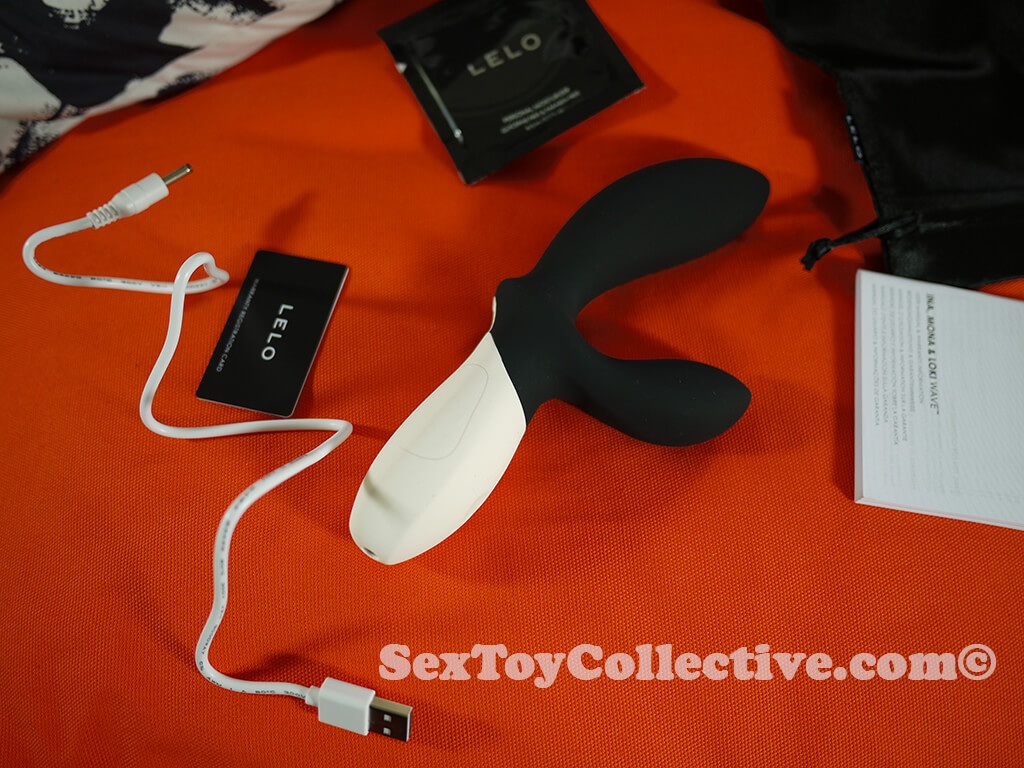 keep it up your ass
If you're looking for a men's prostate massager that's packed with quirky features, the Lelo Loki Wave certainly delivers. However, its size is a big drawback for me. While it's great that the prostate arm is packed with fancy motors, that means the arm has to be pretty long and slender. As a result, it falls out very easily because your anal sphincter can't close enough to keep it in.
The surface of the Lelo Loki Wave is made of silicone, so DO NOT use silicone-based lubricant on the toy.
Once you add the wave motion to the mix with the githy arm, it becomes INCREDIBLY difficult to keep this toy in. Your ass wants to tighten naturally when you use an anal toy, and you have to fight that natural urge. With this prostate massager from Lelo, it's VERY hard to fight that natural urge. Many times, he would squeeze involuntarily and the toy would easily come off. It was frustrating.
I ended up holding the toy in one hand, which was a bit awkward. If you don't mind hand-holding prostate toys (I know some men do), you won't have a problem with the Loki Wave. I prefer a hands-off experience, but to each their own.
control panel
Another thing I have to mention is the control panel of the toy. Jesus, I hated that control panel, and taking a look at the Lelo Loki reviews page on LoveHoney, a lot of other customers hated it too. The control panel is sleek and simple, with 2 arrow buttons "up and down" and 2 symbol buttons "plus and minus", but you need the fucking Rosetta Stone to understand it.
It's on the base of the toy itself, you don't have a remote control or a separate app. This is pretty annoying, because if you want to change the vibration setting while the toy is inside you, you just have to fiddle with the buttons and hope it gets it right. Over time, I imagine you could visualize which buttons you're pressing and better learn the settings, but it wasn't terribly intuitive.
It seems that this control panel is the same system used in the best sellers ina wave and cute wave sex toys for women I guess women are good at multitasking.
I recommend?
Overall, I would say that I found this toy unique. It's not the best prostate massager I've ever used, but it certainly has a flavor of its own. The zooming motion is obviously the strong point of this Lelo prostate massager, and it's quite a pleasurable sensation, especially when used on its own or with the weaker vibration settings.
So yeah, if you like to feel like your prostate is being gently stroked by a masseuse instead of vibrating to death, buy this toy. On the other hand, if you want a toy that will milk your prostate with vibrations alone, I would suggest trying something like the lelo hugo it is tailor made for vibration.
Cleaning and maintenance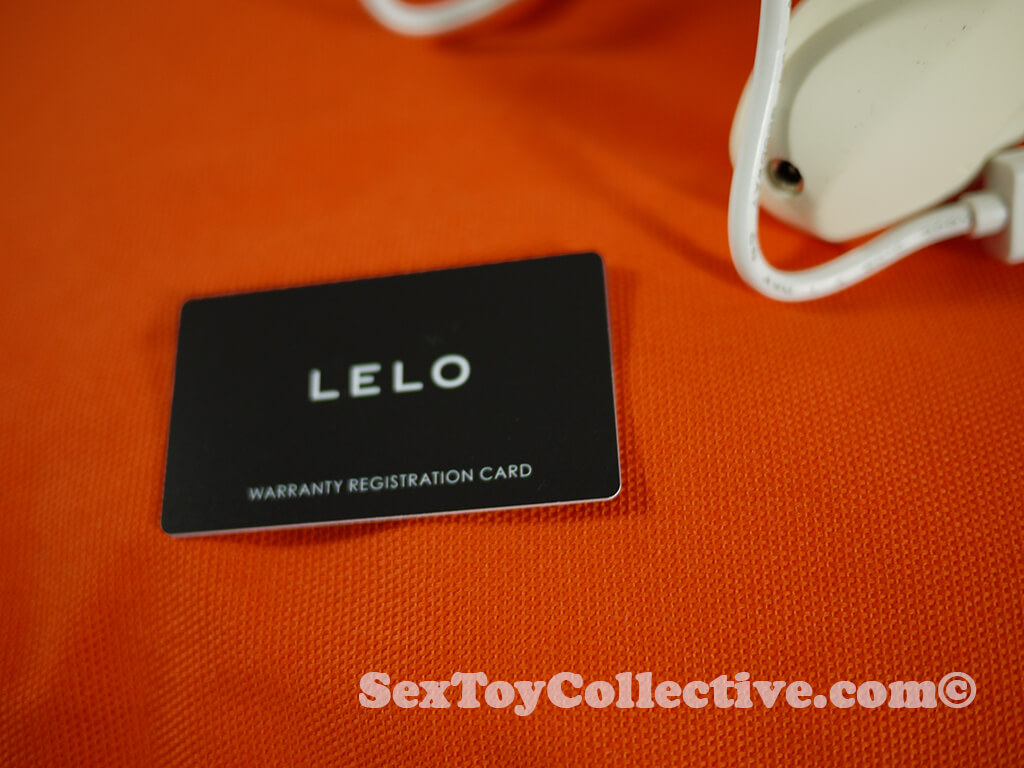 USB charging
This toy claims to be 100% waterproof, which confused me because the charging socket on the bottom is not covered. However, the manual explains that the USB charging socket is sealed from the inside of the device, making it waterproof to a depth of 1 meter. In other words, you can use this toy in the bath or shower without getting a shock: good!
USB charging is nice and convenient, although I would expect that from toys of this caliber. The battery takes a couple of hours to charge and lasts about 90-120 minutes in my experience depending on the power you're using.
Lelo guarantee
The best thing about Lelo erotic toys is their 1 year Lelo warranty. Your toy comes with a unique warranty card with a serial number that you must register on the Lelo website. If you have any problems within one year, Lelo will change the product for you free of charge. They also have a 10-year warranty that allows you to get a new toy at a 50% discount if your massager fails outside of the warranty period.
I would like to check if Lelo's 10-year warranty is always honored, but unfortunately I don't have 10 years to write this Loki Wave review.
Cleaning
When you need to clean the Ola Loki, I recommend that you do it with warm water and antibacterial soap. Rub it in well with your hands, as this kind of velvety body-friendly silicone can hold on to nasty odors at times, the kind of nasty odors that come off a butt.
Lelo, of course, wants you to buy his special sex toy spray. You can buy it if you want, but I find that antibacterial soap does the same job for a lot less money. If you're determined to use a professional sex toy cleaner spray, you may want to look for a cheaper non-brand option.
cum clusion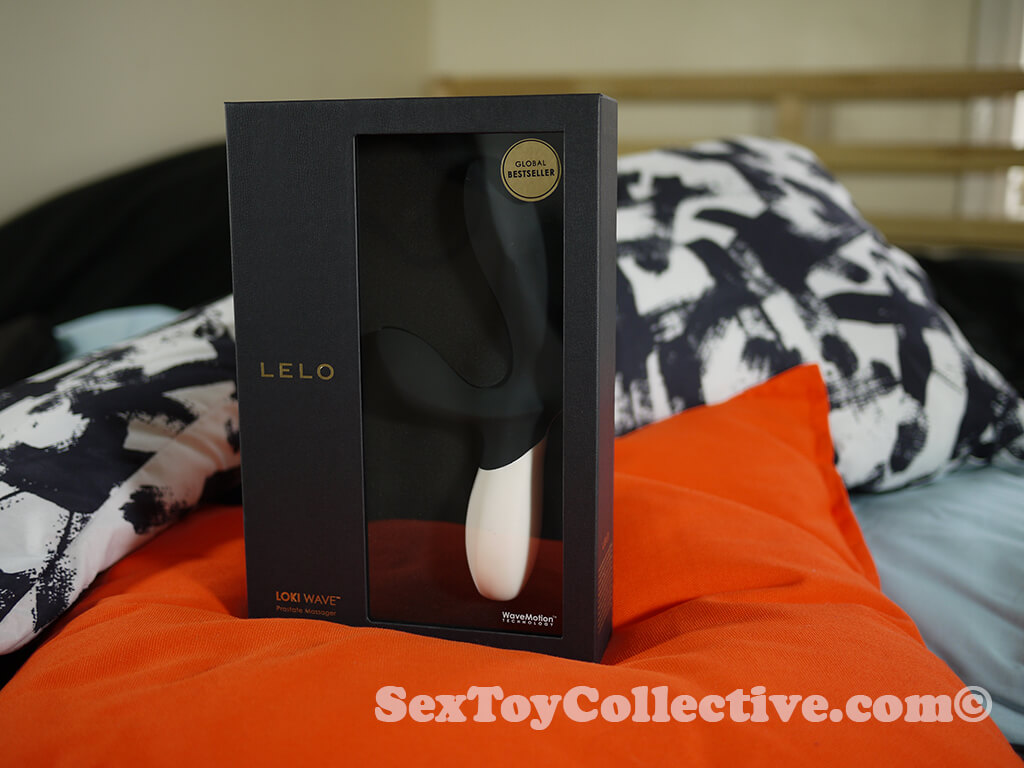 I hope you liked this review of the Lelo Loki Wave In summary, I would recommend the Lelo Loki Wave if you have used many vibrating prostate massagers and are looking for something a little different. Hell, the wave motion might hit your point P in exactly the right way for you, who knows?
I for one think I'll try the "come here" setting without vibrations from time to time, just for the uniqueness of it. However, I do have alternative Lelo prostate massagers, which I would probably turn to before this one.

Leo Casanova is a recognized Clinical Sexologist and General Health Psychologist expert in the treatment of sexual disorders, sex addiction, aversion to sex and ejaculation disorder.
Its main areas of work are focused on the resolution of sexual and/or couple problems and sexological research and psychological. He has collaborated with different media such as: QUO, Cosmopolitan, AS, El País Digital and IDEAL and is the author of different scientific articles published in specialized sexology magazines and in others of general circulation.
Outstanding Academic Achievements
• Official Master's Degree in Sexology.
Diploma in Technological Innovation from the University of Oviedo (2015 – 2016).
Health research methodology by the Virgen de las Nieves Hospital (2012 – 2013).
Postgraduate in Sexology from the University of Almería (2018 – 2020).
We share guides on the best online stores for sex dolls, sex toys and tips and tricks on how to use them. One of our main goals is to help people learn how to identify trustworthy sites and avoid scams.
ACS Certified Sociologist and Sexologist who takes a holistic approach to sexuality. I believe that the mind, body, heart, and spirit all interact to create our sexual experiences, for better or worse! My work focuses on the influence of attachment and trauma (big and small) on sexuality and relationships and embodied and somatic approaches to healing sexual difficulties. I am a lifelong nerd who is always learning, but more importantly, I am a human being who just wanted to enjoy his sex life.
munecasexuales.com is a place where we share guides on the best sex dolls to buy online, online stores, sex toys and tips and tricks on how to use them. One of our main goals is to help people learn how to identify trustworthy sites and avoid scams.