LELO Sona 2 review: How does it compare to the Sona Cruise?
LELO is a Swedish brand that makes luxury sex toys. Through innovation and technology, they aim to constantly redefine the orgasmic experience.
They have won 36 major international design and industry awards. The Sona, in particular, won the 2019 iF Award for Product Design.
I didn't know there were so many awards for sex toys. I'm looking forward to seeing if it's up to the task.
The LELO Sona range consists of the following:
lelo sona
LELO Sona Cruise
LELO Sona 2
LELO Sona 2 Cruise
In this review I will discuss the LELO Sona range as a whole and share my experiences with the LELO Sona Cruise and the LELO Sona 2 Cruise.
Why you might want a Lelo Sona 2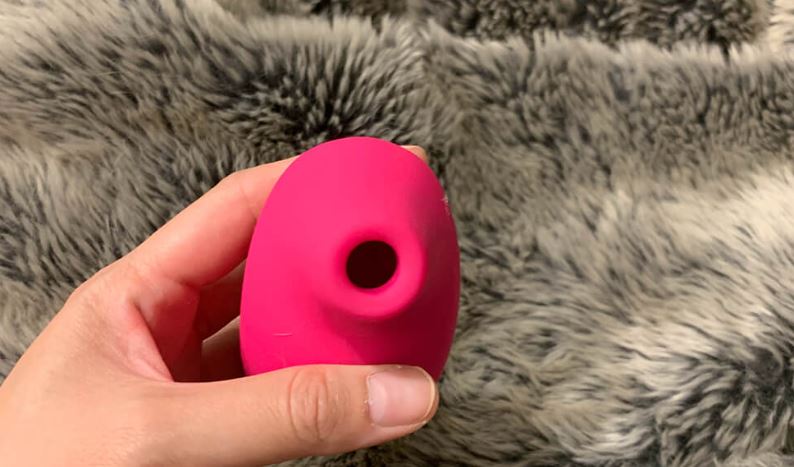 The LELO Sona is a clitoral vibrator. Wait, let's call it a clitoral stimulator, but it's not technically a "vibrator" since it doesn't actually vibrate. Later we will talk about it.
There are tons of exciting ways for people with a vagina to orgasm: clitoral, vaginal, G-spot, mixed, anal, and more.
The most common method is clitoral stimulation. That is, not penetration or intercourse. Many studies have shown that most women cannot reach orgasm through intercourse alone and the 75% needs clitoral stimulation to reach orgasm.
Contrary to popular belief (because who needs education on female sexual pleasure, anyway?), the clitoris is not a tiny bulb at the top of the vulva that is apparently so elusive that you need a GPS to locate it. . That's just the tip of the iceberg. In reality, only a quarter of the clitoris is visible; the rest extends inside the labia majora. The entire clitoris is made up of 8,000 nerve endings (PS the penis has 4,000… so yeah, do the math!) Their sole purpose is to provide pleasure. Power to the clitoris!
That's why clitoral stimulators are amazing. Used solo or with a partner, they pay attention where it matters most.
What sets the LELO Sona apart from other vibrators I've reviewed?
Traditional clitoral vibrators are based on, well, vibrations against the skin. The Sona is part of a new category of clitoral stimulators that use air instead of vibrations. Yes, air.
Have you seen the Womanizer and the Satisfyer? They use air suction to stimulate the clitoris.
The Sona uses sonic waves instead of suction or vibration.
What is a "sonic wave"?
According to Webster's Dictionary, it refers to "a speed equal to the speed of sound (about 760 mph, through air at sea). sea level in hall
temperature)".
Yeah, I didn't get it either.
But, hey, you don't have to be physical to get off.
I've done some research and figured this out. Basically, the Sona has a small pad in its "mouth" that you flick rapidly to send blasts of air over and around your clitoris, without actually touching it. Air stimulation makes for a contactless experience, eliminating any friction against your skin, making it faster and smoother than a traditional vibrator.
LELO also claims that instead of just stimulating the visible part of the clitoris like other vibrators, the Sona sends sonic waves throughout the entire clitoris (read: the other three-quarters), resulting in a deeper, longer, more intense climax.
It is a vibrator that does not vibrate. A frictionless vibrator that doesn't even physically touch the clitoris. What world do we live in? Other reviewers have reported that this eliminates post-orgasmic skin irritation and ultra-sensitivity, leading to multiple orgasms in a row.
True… This has a LOT to live up to. He claims it offers a whole new orgasm experience. Have I had shallow orgasms all my life? Have I been missing some kind of full magical experience? My old trusty vibrator and I are feeling personally attacked right now.
Using the LELO Sona 2, Features Review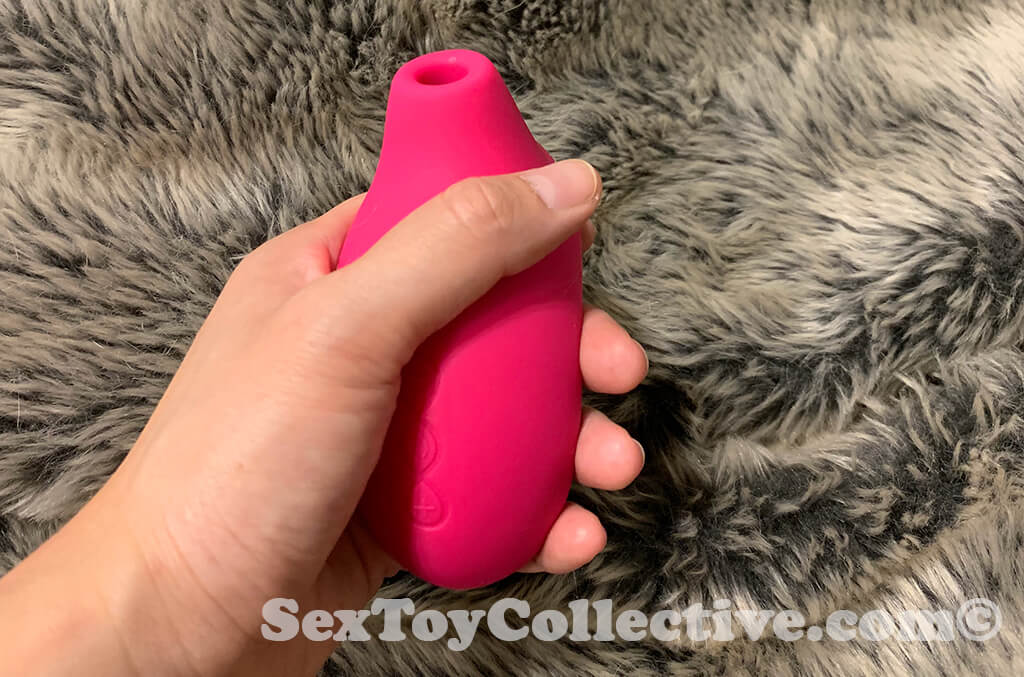 The Sona arrives in a nice black box. I take it out of its packaging. It is very elegant, very cool and has a very pleasant touch. It is made from medical grade silicone and ABS plastic, giving it a luxuriously soft and smooth texture. The shape provides a comfortable grip and is a good size and weight. Ok, a good start.
It has three control buttons that are quite intuitive. Of course, I think they could be located on the top instead of the bottom, since they are a bit difficult to press while in use. But I guess there are a few things that have to be sacrificed for that classy aesthetic.
The narrow "mouth" provides precision as to where you decide to direct the pulses. This can be positive or negative. If you are new to clitoral stimulation, you may find this a bit difficult compared to a toy with a larger surface area that you can simply place between your legs. The precision of the Sona means you'll need to know your anatomy well to know where to place it. Also, if you prefer stimulation of a wider area, it might be too precise for you. But if you like selective clitoral stimulation, you'll definitely love it.
When using it, it seems like you have to hold it above the skin (not on it), although you can also use it on the skin (the Sona Cruise was created with this in mind). I found it strange to position my hand so that the toy was suspended over the clitoris. I've read some comments where people enjoy using it "hands free" while holding the Sona between their thighs and letting the sonic pulses do their work, completely contactless.
Personally, I prefer to hold it against my skin, and because of the gap between the "mouth" and the inner pad, my clit still doesn't really come into contact with anything. I assume it is half contact when used in this way. I do not have any problem with that.
It should be noted that the Sona doesn't accommodate all clits and vulvas, though the Sona 2 tries to make up for that. The Sona 2 has a larger surface area and a deeper opening, making it easier to place and accommodating a greater variety of anatomies. But this isn't unique to the Sona: In terms of sex toys, there's really no one-size-fits-all.
It takes me a bit to get the Sona in place and then I start exploring the various settings.
The Sona is pretty intense even on its lowest setting. It is essential that you warm up before introducing the Sona into your session. While I tend to skip the initial settings on other vibrators and start with the medium-high modes, I found that with the Sona, a little goes a long way.
As for the vibration patterns, the Sona has 8 modes and the Sona 2 has 12.
This didn't seem particularly noteworthy to me, as I've never really understood what it is about the different vibration patterns. none of them is never as good as the first steady buzz. Honestly, I've always found more patterns = more annoying, as it takes me longer to get back to the first setting when I accidentally press outside of it. I have literally never found a vibration pattern that I like.
Until now.
Look, it's either sonic waves or voodoo magic… but somehow these different patterns are serving true supersonic sensations here. The rhythms are deeply satisfying and it's the first time I've come so hard with a vibrator that's not in the first position. It was a lot of fun switching from one setting to another, prolonging the session while teasing and surprising myself. The transitions were smooth, creating waves of pleasure with greater depth and variety, leading to a stronger, more satisfying climax.
I didn't expect to really appreciate the Sona 2's four additional vibration modes. Don't overlook it, trust me.
Hot tip: If you want to take things a bit further, throw in some water-based lube. This forms a seal between you and the Sona for more intense and targeted sonic sensations all over your clitoris.
Plus, all Sonas are fully waterproof, so feel free to use them in the shower or create (sonic) waves in the bathtub.
They are also rechargeable and come with a USB charging cable. The Sona 2 is supposed to have a longer battery life, but I haven't run out of battery on either yet, so I can neither confirm nor deny. I guess this means that they are all pretty decent in this regard.
LELO Sona 2 vs. Lelo Sona 2 «Cruise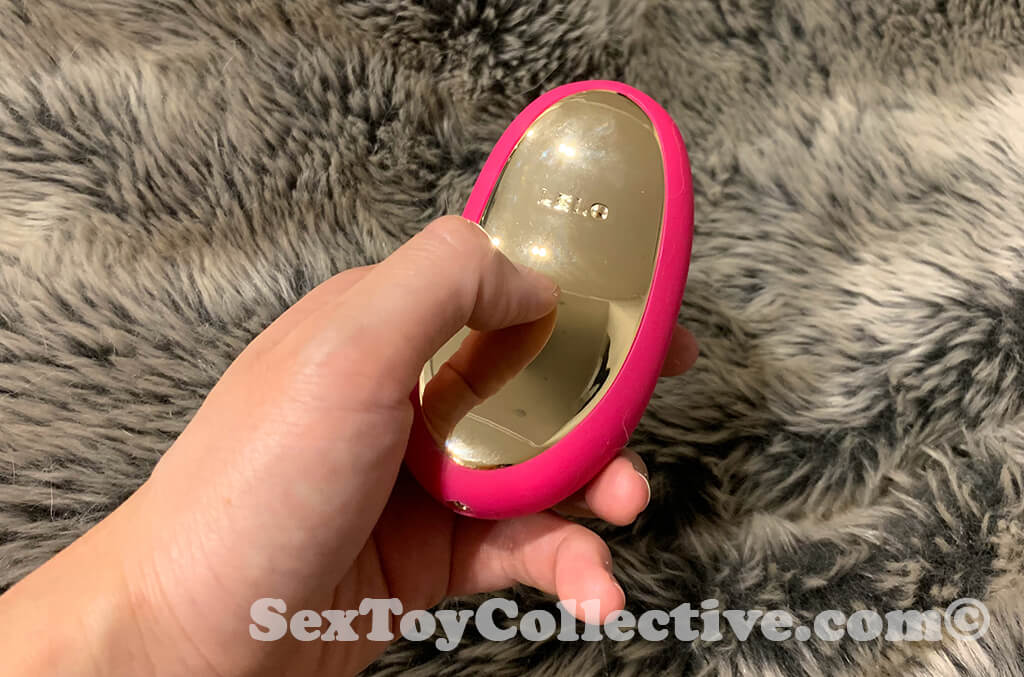 The Cruise editions of the LELO Sona incorporate Cruise Control Technology.
Yeah, pretty much the same concept as cruise control maintains a car's speed. Most vibrators lose power the more you push them against you, due to the extra pressure put on the motor. The Sona's Cruise Control allows it to maintain the same speed and force no matter how hard you push it against your body.
Basically, it withholds the 20% from its power during normal use, and when you press it against your skin, the extra 20% automatically kicks in to regulate intensity.
I found this especially helpful when I was on the brink of orgasm—instinctively squeezing him harder against me helped push me over the edge. It was a smooth and seamless transition, and I appreciated the seamless experience. Honestly, it would have been quite anticlimactic (sorry I couldn't resist) for it to lose power just when it needed to.
PROS
It is made with materials of high quality, safe for the body and very easy to clean.
The vibratory adjustments are really nice - an unexpected surprise.
Sure, it's innovative and different from other clitoral vibrators on the market (although I still I don't know exactly what a sonic wave is).
It's comfortable, portable, and rechargeable (USB charging cable and case included).
Intense, deep, prolonged and multiple orgasms. Need I say more?
CONS
It takes a bit of fumbling to figure out the best way to hold it and what fit is right for you. The Sona immediately ramps up on its lowest setting, so it takes a while to figure out how to get it to work. Do you put it against the skin or on top? Will you concentrate on one point or will you move it? Will you be using it hands-free or making full use of the buttons and various settings? It's a bit more complicated than a normal vibrator and I found it a bit confusing at first, but now it's very easy to use.
For me, the main drawback is that it is not "quiet" as it claims to be. When you turn it on, you hear a distinctive buzz, not unlike the buzz of your phone in your bag. When put against the skin, it is multiplied by 5… I was surprised at how strong it was. Imagine your phone vibrating on the table when someone calls you in silent mode. It's not really quiet, is it?
Maybe it's due to the suction or the air seal formed by pressing the "mouth" against the skin (I don't know, I'm not a scientist), but the sound is significantly increased. And with lubricant? There's splatter and the lube magnifies the sound (I told you I'm not a scientist, but it definitely sounds that way). If you had roommates, they could hear you getting wet and wild.
Fortunately, I don't have roommates.
Even if I did, there's nothing a little music or TV in the background couldn't drown out. Also, there's nothing wrong or shameful about pleasuring yourself, so do it!
My verdict for this review of the Lelo Sona 2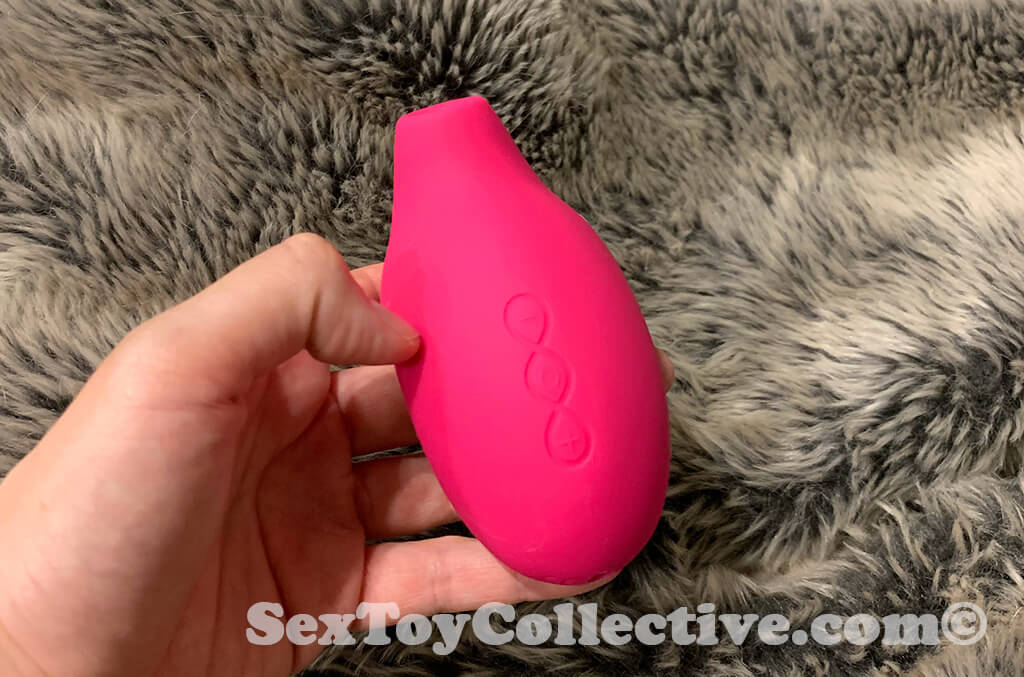 Overall, the LELO Sona has exceeded expectations. I've recently found myself bored with toys, wondering if I've tried everything and hit a plateau. I was almost convinced that I had peaked and could no longer be surprised. I was skeptical of all of the Sona's bold claims, but I'm delighted to be proven otherwise.
Indeed, the Sona has delivered a whole new level of pleasure in a vibrator, oh wait, sonic massager/clitoral stimulator/whatever you want to call it…it does the job. Out of the whole range, I would choose the Sona 2 Cruise as I really appreciate the larger surface area, the extra settings and the cruise control.
The LELO Sona 2 Cruise is now one of the top choices in my night drawer for a quickie (or three) in the morning or before bed.
It's not the cheapest toy on the market. But I come much more frequently and intensely since I have the Sona. And since orgasms have been scientifically proven to help relieve stress, headaches, menstrual cramps, depression, and insomnia…I consider it an investment in my health and well-being. And, really, there is nothing more important than that.
Who should get one?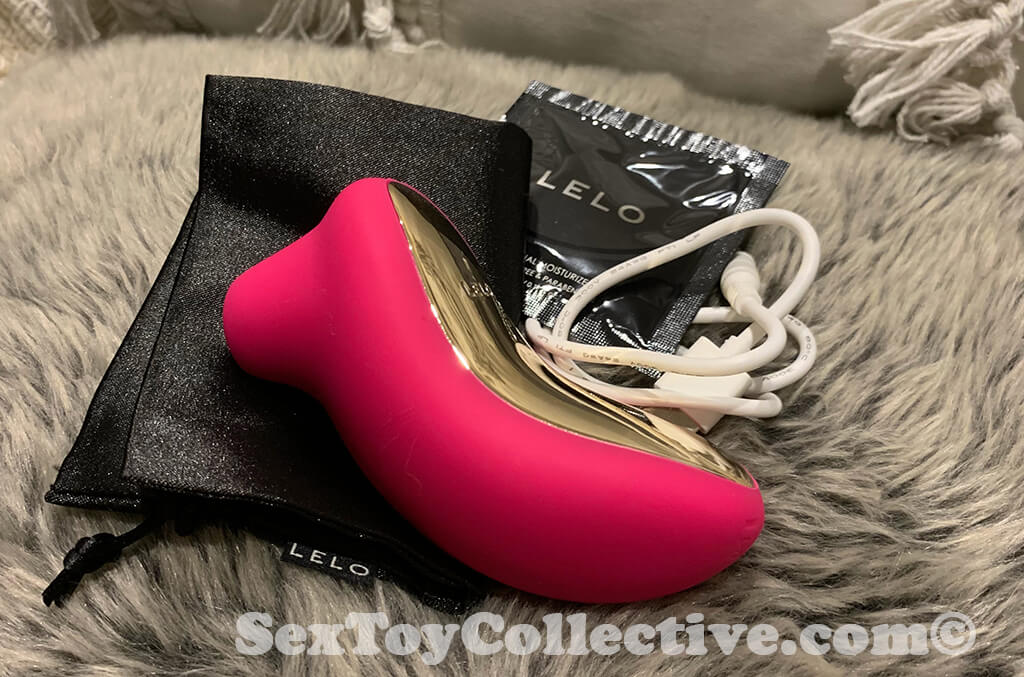 This could be for you if….
You are bored with your usual routine and you want to change it
You're still discovering your body and you still haven't figured out how to cum
Sometimes it's hard for you to reach orgasm
You want to include more fast and intense orgasms in your schedule
You like the intensity of larger toys, but dislike their weight and bulk
You want something you can travel with
And it's probably not for you if...
You have a limited budget
You don't like clitoral stimulation
You want to be discreet and you need a silent toy
You have a larger or ultrasensitive clitoris
Here you have best price What I have found for the Lelo Sona 2 so far.

Leo Casanova is a recognized Clinical Sexologist and General Health Psychologist expert in the treatment of sexual disorders, sex addiction, aversion to sex and ejaculation disorder.
Its main areas of work are focused on the resolution of sexual and/or couple problems and sexological research and psychological. He has collaborated with different media such as: QUO, Cosmopolitan, AS, El País Digital and IDEAL and is the author of different scientific articles published in specialized sexology magazines and in others of general circulation.
Outstanding Academic Achievements
• Official Master's Degree in Sexology.
Diploma in Technological Innovation from the University of Oviedo (2015 – 2016).
Health research methodology by the Virgen de las Nieves Hospital (2012 – 2013).
Postgraduate in Sexology from the University of Almería (2018 – 2020).
We share guides on the best online stores for sex dolls, sex toys and tips and tricks on how to use them. One of our main goals is to help people learn how to identify trustworthy sites and avoid scams.
ACS Certified Sociologist and Sexologist who takes a holistic approach to sexuality. I believe that the mind, body, heart, and spirit all interact to create our sexual experiences, for better or worse! My work focuses on the influence of attachment and trauma (big and small) on sexuality and relationships and embodied and somatic approaches to healing sexual difficulties. I am a lifelong nerd who is always learning, but more importantly, I am a human being who just wanted to enjoy his sex life.
munecasexuales.com is a place where we share guides on the best sex dolls to buy online, online stores, sex toys and tips and tricks on how to use them. One of our main goals is to help people learn how to identify trustworthy sites and avoid scams.