Liberator Esse Review – Is the sex chair worth it?
Liberator Esse Review – Is the Sex Chair Worth It?
The Liberator Esse is a sex chair manufactured by the sexual furniture company Liberator. If you find it difficult to have sex in bed, then a custom made sex chair like Esse could be the perfect way to explore new sexual positions.
Founded in 2001, Liberator is known for manufacturing a wide variety of sex furniture, such as the sex pillow Liberator Wedge and the Liberator Ramp. The Esse sex chair remains one of their most popular products, although at first glance it is nothing more than a 480 $ chair.
So what makes it so great?
Let's find out in this Liberator Esse review
Pros and cons of the Liberator Esse sex chair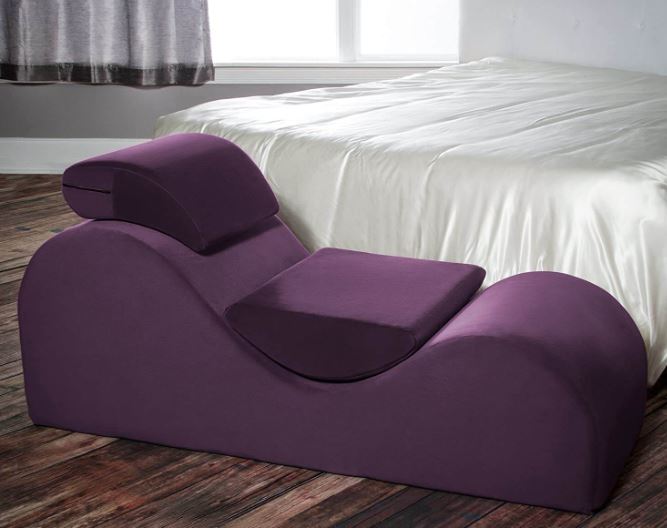 First, before getting into the details, I think it's important to go over the pros and cons of Liberator Esse:
Pros
You can try more sexual positions
Penetration can become deeper and more powerful
Faux leather cover
Moisture-wicking nylon lining
The headrest can also act as a cushion for the "dip"
High-density foam padding for added comfort
Black Label version has D-rings for BDSM
Made in USA
Some Liberators can pass for normal furniture
Cons
Expensive
D rings are a little small
Assembly required
you need space
The Black Label version cannot pass as normal furniture
Liberator Esse is a mixed bag, but it leans towards the positive. Although this Liberator sex chair takes up a lot of space and is expensive, it can improve your sex life and the company has intelligently thought about the design to make it as accessible as possible to everyone. Plus, it's made in the USA, which is always nice to hear!
Aspects to take into account before buying the Liberator Esse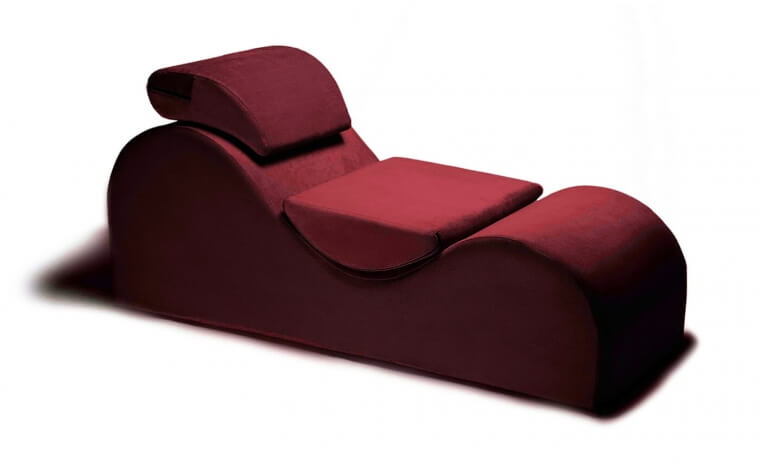 Before buying a Liberator sex furniture like the Esse, you should ask yourself a few things:
You have room?
The Chaise Liberator Esse measures approximately 1.5m long, 1.8m wide and 1.8m high. Once assembled, it is not easy to disassemble, so you need space to store this sex bench permanently. Many people put them in their basement as part of a sex dungeon, but I personally kept it at the foot of my bed.
It's like a very sexy ottoman.
Although some people use their Liberator chair as furniture in their living room or bedroom, they are not always subtle and its peculiar shape was sure to raise a few eyebrows if Mom and Dad visited. The Black Label version also includes D-rings (bondage attachment points) that would be difficult to explain.
Have fun explaining it to your aunt!
Do you know how to assemble furniture?
I am a person who takes 3 days to assemble an IKEA chair, so naturally I was worried about the assembly process when it came to a 500 $ erotic piece of furniture.
There is no IKEA hotline for erotic chairs!
Luckily, the process is not too distressing and I managed to assemble the Liberator Esse lounger without problems, but be careful if you are one of those who are not exactly "handy".
Maybe ask someone to help you. Someone… open-minded.
Can you afford it?
Although I understand why this sublime product of high quality For the price it is, it's certainly not in everyone's budget to spend hundreds of dollars on a sex chair.
If you can't afford such expensive equipment, there are cheaper Liberator products, such as the Liberator Ramp (a sex ramp) and the Liberator Wedge (a sex pillow) that could spice up your sex life for much less money.
How to use it, Liberator Esse Positions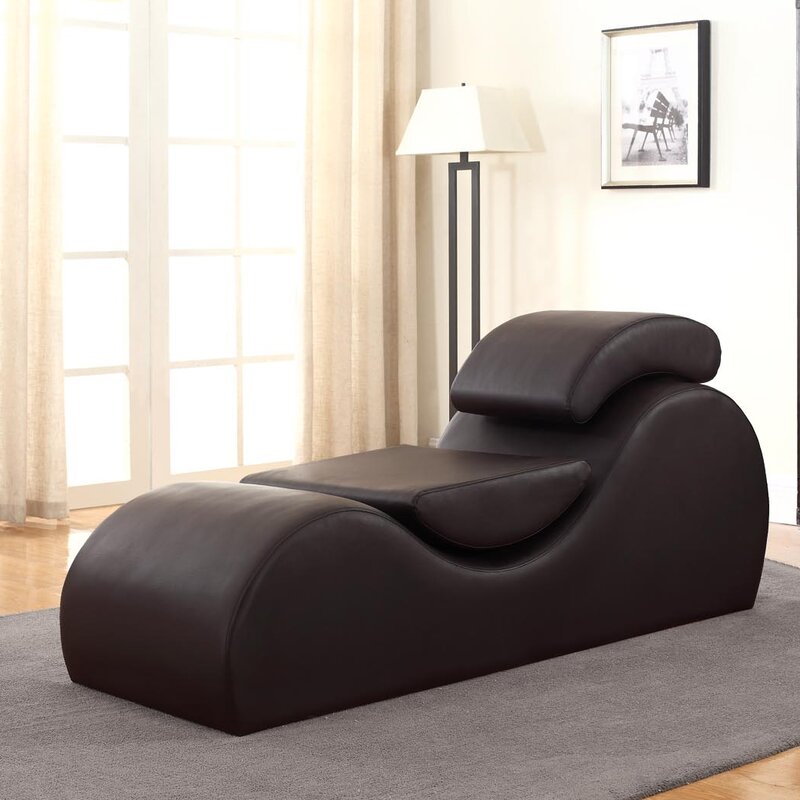 Using a sex chair like the Liberator Esse is a matter of using your imagination and seeing what works for you. Here are some very easy Liberator sex positions to try:
doggy style
Many women love to fuck doggy style on this couch, placing the headrest in the dip to flatten the overall shape of the chaise. If you put your knees in the center and lean toward the bottom end of the couch, your ass will naturally rise into the air so your partner can get behind you and plow.
The angle created by the doggy style with this chair significantly helps G-spot stimulationSo you may suddenly find doggy style amazing when before you thought it was a little "meh."
Missionary (but sexier)
It's simple, but lying on the Liberator with your crotch in the dip is naturally a very easy way to have missionary-style sex. Your partner can slide inside you while your pelvis is perfectly supported by the chair's tilt at the perfect angle.
Hot!
Doing missionary on the Liberator Esse is also a great way to fuck without making too much noise: you don't have to worry about the bed or mattress squeaking when you're trying to have a good time.
Cowgirl
Have the penetrating partner sit in the gully of the Esse, straddling the chair, with one leg on each side and the body facing the underside of the chair.
Next, sit down and straddle the chair in the opposite direction, so that you are facing him, sliding him inside you and using your feet on the floor for leverage. In effect, you are "riding" your partner while you are both facing each other.
In my experience, this is a very intimate way to have sex with the Esse. You can kiss and hug each other passionately while fucking simultaneously. What fun!
oral sex
If you have a vulva and you like receiving oral sex from your partner, the Esse naturally offers you an easy position to eat pussy
Simply lie on the Esse in the standard position, pointing your crotch slightly up into the curve of the sofa. Your partner can easily kneel at the end of the couch or lean over the edge of the Esse and eat his fill.
If that's a little uncomfortable, you can also try the same thing but filling the depression with the headrest, so that your body is generally at a higher angle.
Do what works for you!
If you like the idea of an oral sex chair, check out oral sex stools. Cunnilingus stools are kinky sex furniture designed for cunnilingus. Basically, they are a padded chair with the bottom partially cut out and a padded cushion underneath for your partner's head. Feel like a real queen!
Bondage Game
If you have the Liberator Esse Black Label edition, the chair comes with an attractive black faux leather covering and a bunch of D-rings attached to the bottom. In case you don't know, D-rings are metal "hook points" used for BDSM and bondage play.
Basically, they are put in handcuffs and restraints.
This makes the Esse Black Label Releaser PERFECT for bondage games, whether you are a beginner or an expert in these matters. Simply lie back on the Esse, put on the blindfold, and have your partner secure your wrists and ankles to the restraint points on the underside of the chair.
This leaves your body vulnerable and exposed: you won't be able to do anything while your partner teases your body, fucks you silly, or licks you until you're red from screaming and squirming. You will really be his bitch.
I get horny just thinking about it.
My experience with Liberator Esse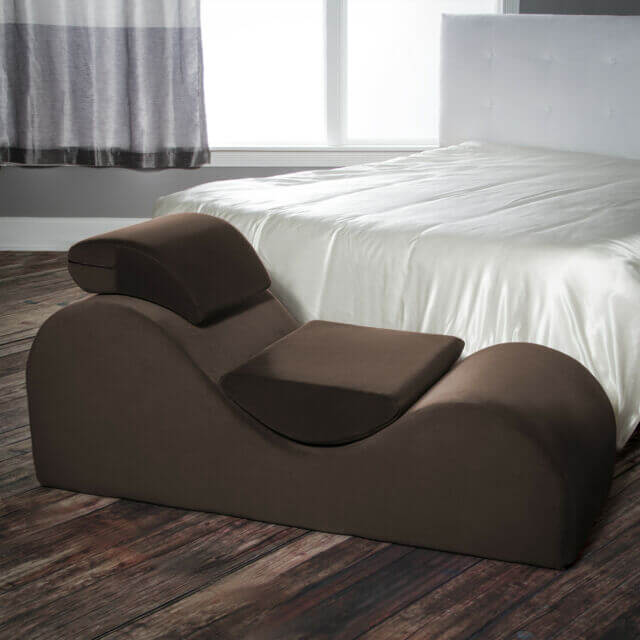 Overall, this chair has impressed me. I love the touch of synthetic skin It has just the right grip without being uncomfortable. I was worried about sweating all over the chair, but that's okay and it's very comfortable against the skin. Even if you dirty everything with bodily fluids, the chair inner lining is moisture proofso that it is not damaged.
I need this for all the furniture in my life.
Have sex in the Libertador
First of all, the sex was amazing. My partner and I tried all of the above positions (and many more that don't have names) and I was amazed. At first I thought this sex chair was marketing nonsense, but I actually couldn't believe how much better sex felt in it compared to our bed
The fact that you can fuck very hard and fast without making too much noise is a big plus for me. I'm always worried about making too much noise and disturbing the neighbors when we fuck, so it's hard for me to "let go" and stop worrying when we're fucking in bed.
Doesn't exactly put me in a good mood.
However, with the Liberator you can fuck as hard and as fast as you want without making too much noise. It really is a game changer when it comes to discretion in the bedroom.
How Liberator Esse made me feel
One of my favorite things about the Liberator Esse is how this chair made me feel. It's hard to describe, but having a piece of furniture dedicated to sex just puts you in that erotic mood as soon as you're in it.
I don't know, it's different from a bed.
When you lie on the Esse, you're naturally curved in a sensual "come and fuck me" position, so you feel like your inner sexual goddess can come out. I honestly felt like Aphrodite waiting to get her daily dose of D.
This feeling, combined with the incredible rough sex, was pure bliss.
Review Final Verdict – Should You Buy One?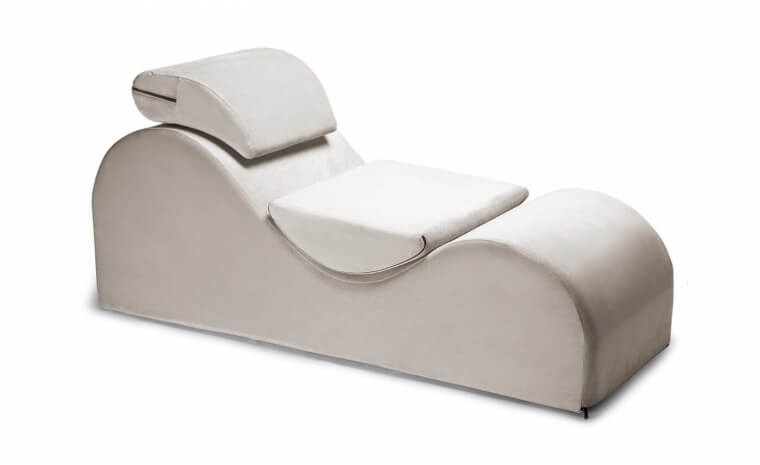 All in all, I would definitely recommend the Liberator Esse as a solid piece of sexual furniture that has massively spiced up my sex life!
However, if you are short on space, concerned about privacy, or on a tight budget, I recommend taking a look at the Liberator Wedge (about 80 $) or the Liberator Ramp and Wedge Combination for about 200 $.
Whatever piece of sex furniture you decide to purchase, remember to read the instructions, stay safe, and have fun!

Leo Casanova is a recognized Clinical Sexologist and General Health Psychologist expert in the treatment of sexual disorders, sex addiction, aversion to sex and ejaculation disorder.
Its main areas of work are focused on the resolution of sexual and/or couple problems and sexological research and psychological. He has collaborated with different media such as: QUO, Cosmopolitan, AS, El País Digital and IDEAL and is the author of different scientific articles published in specialized sexology magazines and in others of general circulation.
Outstanding Academic Achievements
• Official Master's Degree in Sexology.
Diploma in Technological Innovation from the University of Oviedo (2015 – 2016).
Health research methodology by the Virgen de las Nieves Hospital (2012 – 2013).
Postgraduate in Sexology from the University of Almería (2018 – 2020).
We share guides on the best online stores for sex dolls, sex toys and tips and tricks on how to use them. One of our main goals is to help people learn how to identify trustworthy sites and avoid scams.
ACS Certified Sociologist and Sexologist who takes a holistic approach to sexuality. I believe that the mind, body, heart, and spirit all interact to create our sexual experiences, for better or worse! My work focuses on the influence of attachment and trauma (big and small) on sexuality and relationships and embodied and somatic approaches to healing sexual difficulties. I am a lifelong nerd who is always learning, but more importantly, I am a human being who just wanted to enjoy his sex life.
munecasexuales.com is a place where we share guides on the best sex dolls to buy online, online stores, sex toys and tips and tricks on how to use them. One of our main goals is to help people learn how to identify trustworthy sites and avoid scams.