Bondage Boutique Sex Swing Review – How is it?
When I first went to assemble the Bondage Boutique Swing for this sex swing review, I thought it would take several hours, a great toolkit, DIY skills, and the patience of a saint to hang it. Nothing is further from reality.
how to hang it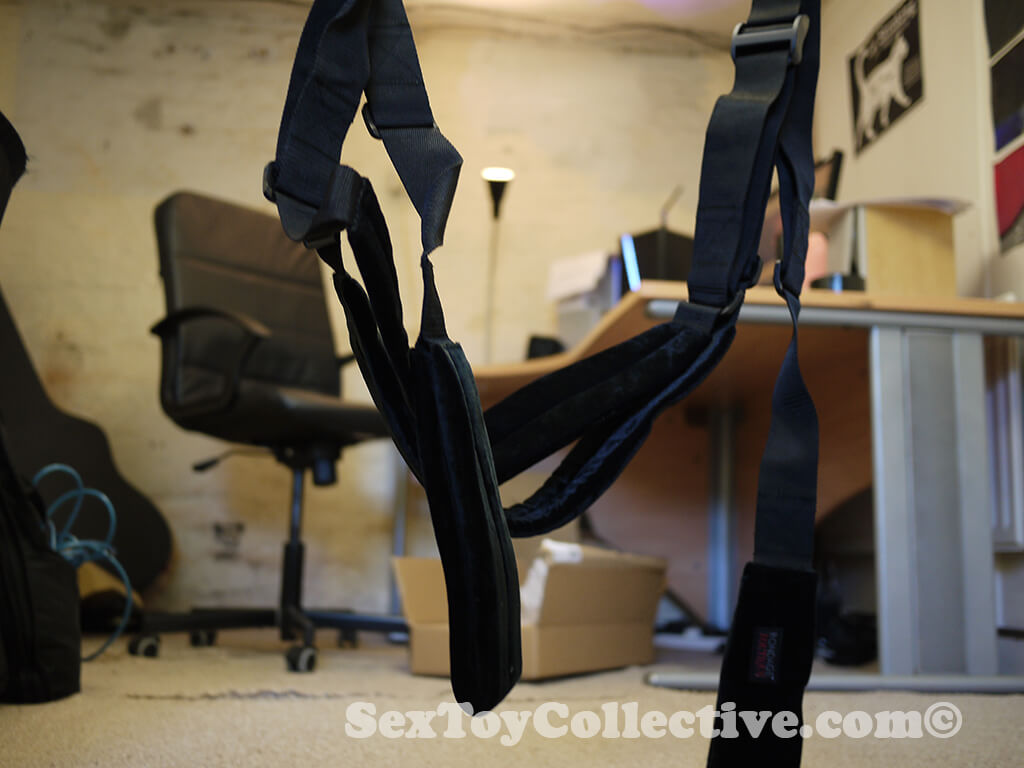 Hanging this BDSM harness was surprisingly easy. The Bondage Boutique Sex Swing can be hung from the ceiling, a swing bracket or a door frame if you want to use it as a door sex swing.
Hanging it is easy: just use a metal hook to screw it to the ceiling. Once the screw-in hook is in place (sure there's a more technical name, but I'm no DIY expert), just hook the swing to it and voila!
This sex harness comes ready to go – basically nothing to do but unpack it and hang it up in a safe place.
I must point out that the ideal is to place it in a room with high ceilings and strong beams. The harness itself can support up to 1,000 pounds of combined body weight (although some sources say 300 pounds), but your ceiling or door frame may not be as strong. Unfortunately, your house was not designed with suspended bondage in mind.
I built my sex harness in my basement, which has fairly low ceilings, and it hung comically low at first. Unless you have very tall doors, I imagine you would have the same problem if you used it as a door sex swing.
How does it work?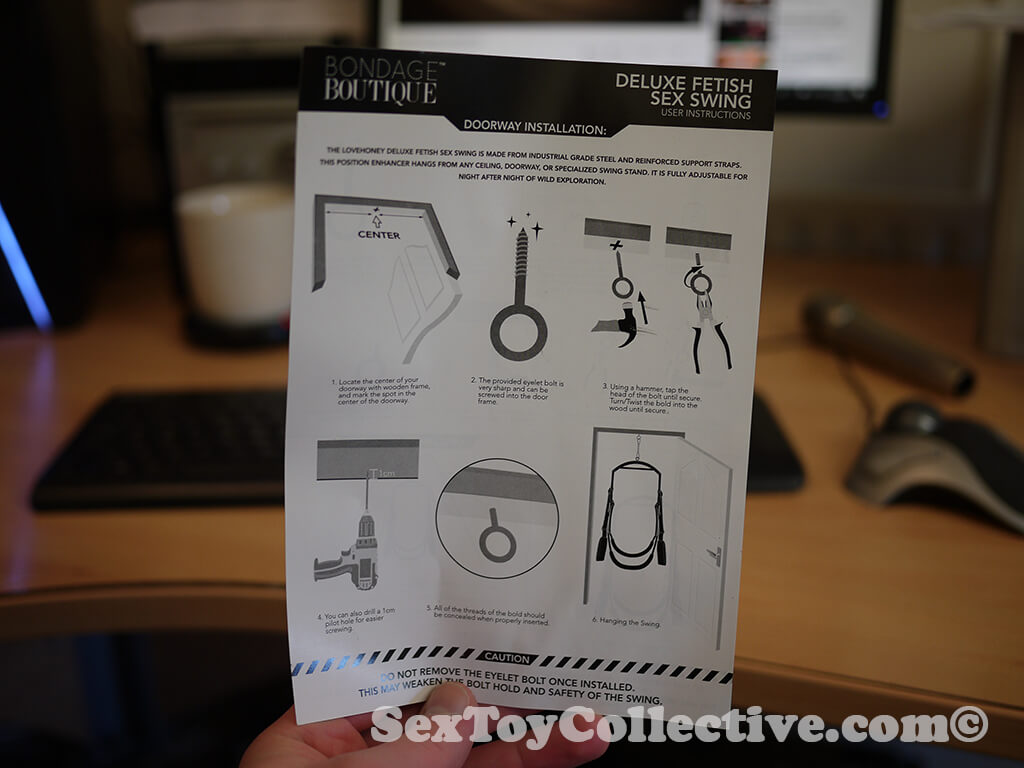 Once you have the sex swing set up right, it's time for you or your partner to get on it! If you don't know how to use a sex swing, it's fairly easy to start with a basic sex swing position. Hold onto the straps with your hands and sit on the padded part of the sex swing seat, placing your bottom between the two padded straps for support.
Now, with the help of your partner, place your feet in the stirrups so that your legs are raised with the rest of your body. From this basic position of the sex swing, you can receive good anal or vaginal sex. It's also a great open position to enjoy some kinky oral sex, as shown in this video (NSFW!) about the sex swing.
The only drawback is that there is no head/neck rest for this basic lying position, but to be fair, this product is designed to be versatile - adding a headrest would limit the possible positions of the sex swing.
The Bondage Boutique sex swing can rotate 360 degrees, so there are a cornucopia of sex swing positions to try. The straps are also fully adjustable, so you can adjust the height and length of various straps to suit the poses you want to try. All straps are strong woven nylon, with added velvety padding for the main body straps and foot stirrups - it's luxurious and soft to the touch!
positions to try
With a fully suspended harness like this, there are numerous kinky sex positions and moves to take your game to the next level.
The Missionary Swing
Climb onto the padded velor seat, place your legs in the stirrups so they're elevated, and hold onto the straps with your arms for support. These missionary style exposed positions have loads of anal, vaginal and oral opportunities.
the dog in the air
Instead of sitting on the sex swing like a chair, why not lie down on the velvety body straps and have your partner put their feet in the stirrups while you look at the ground? If you lower the stirrups so that your feet are under your body, this doggy style pose has the potential to deliver very deep thrusts.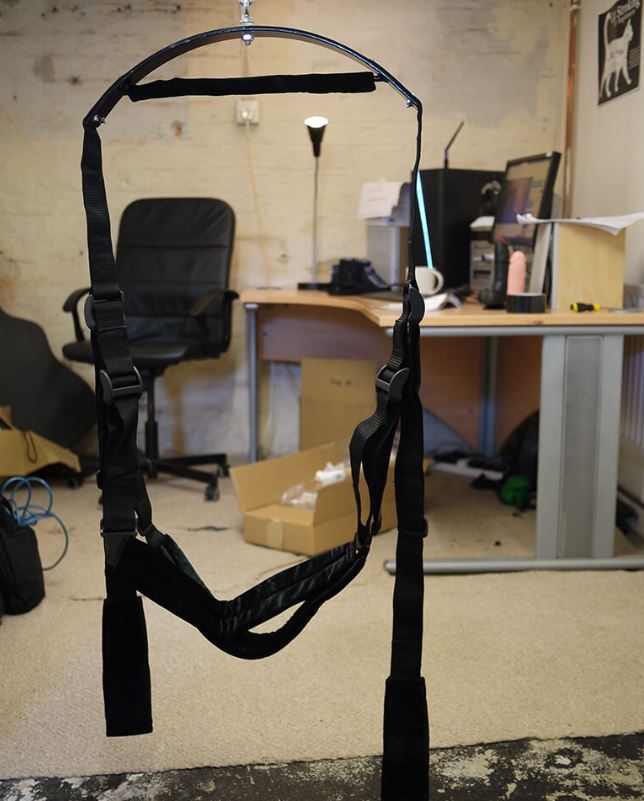 The "Amazon" sexual position
This is a very popular "woman on top" position that is both empowering and orgasmic. The male partner lies in the basic sex swing position, preferably fairly close to the ground. Next, your partner stands with her legs on either side of your stomach and guides herself toward the penis. It's tricky, but it sure is fun once you get the hang of it. Here is a video (NSFW!) of the Amazon's sexual position performed on a bed.
How is this swing different from other sex swings?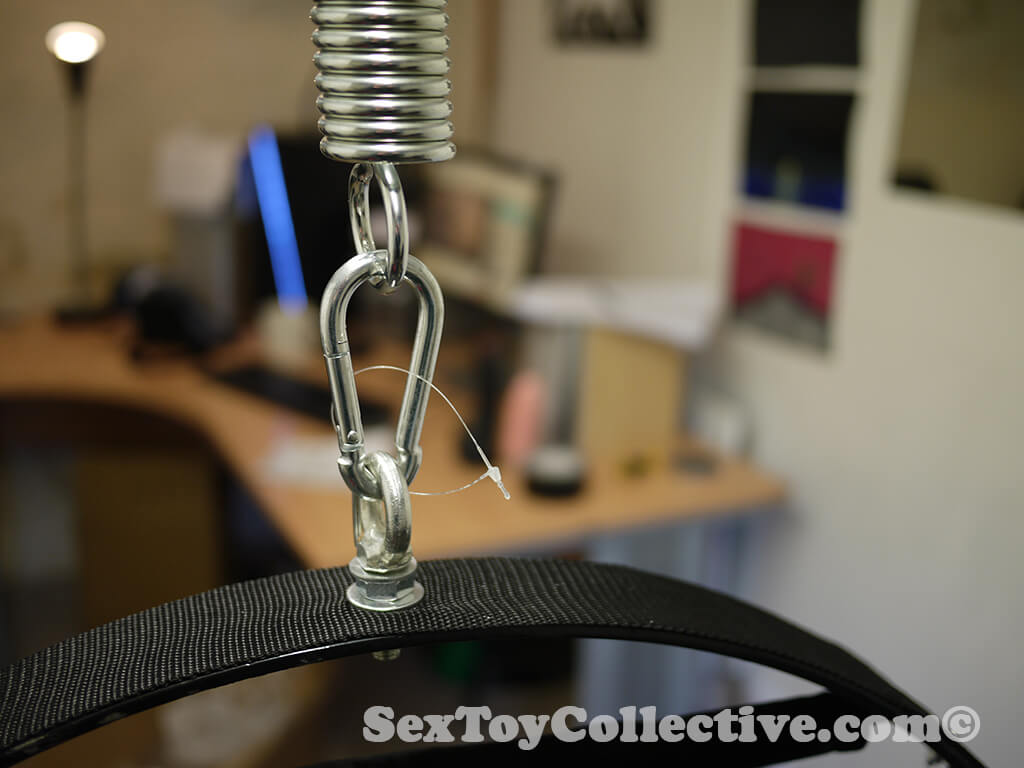 I can safely say that this is one of the best sex swings I've come across, especially considering how cheap it is! I think the main difference between the Bondage Boutique Sex Swing and its competitors is how easy it is to assemble, its excellent value for money and the fact that it is fully suspended.
This swing is super discreet - just unhook it from the loop and tuck it away when you're done. You'll have a loop-shaped hook sticking out of the top of the ceiling, but that's a lot more subtle than a cum-spattered BDSM harness.
This swing is fully suspended and rotates 360 degrees, so the freedom and possibilities are endless! On the contrary, a door sex swing greatly limits your movements and the positions you can adopt, while a sex swing support is clumsy and gets in the way. This Bondage Boutique sex harness is one of the cheapest ways to try dozens (if not hundreds) of gravity-defying sex positions.
Worth?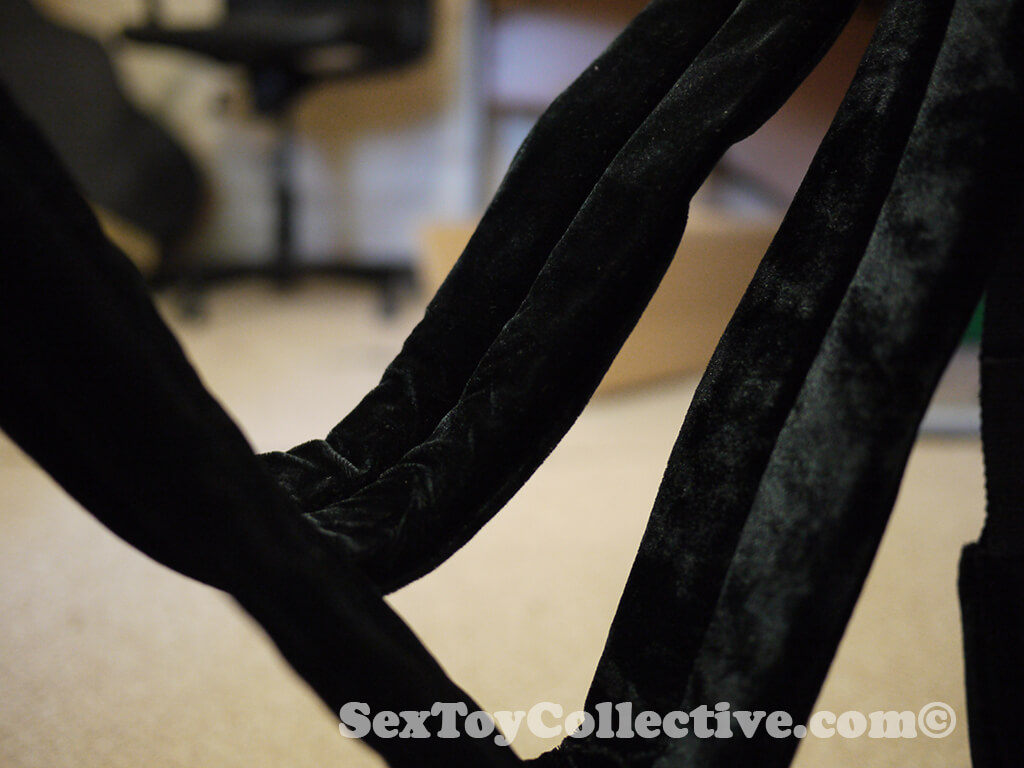 This sex swing does have a couple of minor issues, like the loud metal screeching noise and the inevitable neck pain that you feel after 15-20 minutes, but these issues exist with almost every sex swing in this price range. All in all, the cheap price, super easy installation, sturdy construction, and 360 degree sexual freedom make the Bondage Boutique Sex Swing one of the best sex swings on the market. Treat yourself to the best sex you'll have in years!

Leo Casanova is a recognized Clinical Sexologist and General Health Psychologist expert in the treatment of sexual disorders, sex addiction, aversion to sex and ejaculation disorder.
Its main areas of work are focused on the resolution of sexual and/or couple problems and sexological research and psychological. He has collaborated with different media such as: QUO, Cosmopolitan, AS, El País Digital and IDEAL and is the author of different scientific articles published in specialized sexology magazines and in others of general circulation.
Outstanding Academic Achievements
• Official Master's Degree in Sexology.
Diploma in Technological Innovation from the University of Oviedo (2015 – 2016).
Health research methodology by the Virgen de las Nieves Hospital (2012 – 2013).
Postgraduate in Sexology from the University of Almería (2018 – 2020).
We share guides on the best online stores for sex dolls, sex toys and tips and tricks on how to use them. One of our main goals is to help people learn how to identify trustworthy sites and avoid scams.
ACS Certified Sociologist and Sexologist who takes a holistic approach to sexuality. I believe that the mind, body, heart, and spirit all interact to create our sexual experiences, for better or worse! My work focuses on the influence of attachment and trauma (big and small) on sexuality and relationships and embodied and somatic approaches to healing sexual difficulties. I am a lifelong nerd who is always learning, but more importantly, I am a human being who just wanted to enjoy his sex life.
munecasexuales.com is a place where we share guides on the best sex dolls to buy online, online stores, sex toys and tips and tricks on how to use them. One of our main goals is to help people learn how to identify trustworthy sites and avoid scams.