The Great Hitachi Magic Wand Review: Rechargeable Version vs Original Hitachi
The Hitachi Magic Wand is the OG vibrator, the Queen V. It's old school, legendary, and one of the best-selling personal massagers of all time.
It even topped our list of the best wand massagers.
It was released in 1968 as a body massager, at a time when female masturbation was much more taboo than it is now, providing women with an accessible and discreet tool for self-pleasure. He literally put the power in his hands, making a remarkable brand in feminist history.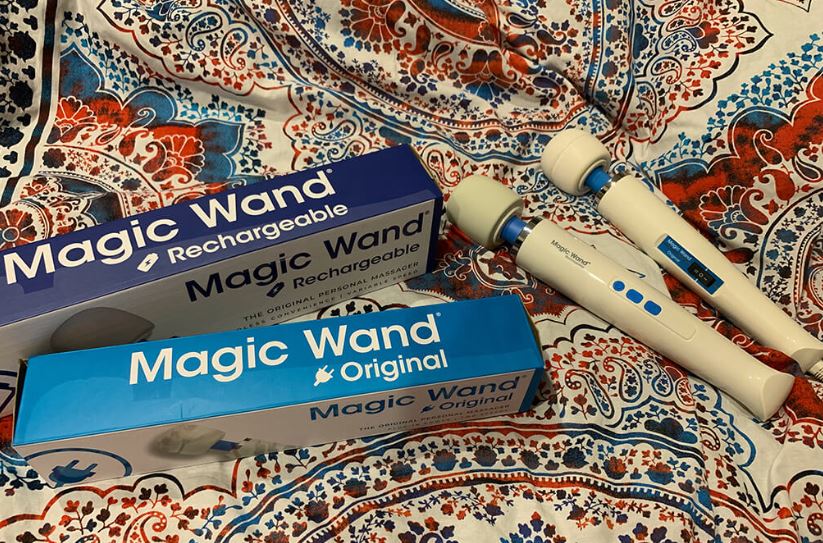 So what does a queer intersectional feminist millennial woman like me in 2019 think of this device that is older than me and was created for a society where female pleasure was not recognized? That is the magic of this wand and is it still magical today?
Over the past half century, Hitachi has been perfecting its Magic Wand. There have been various enhancements and iterations of the product. In this article, we take a look at the latest version of the Original, and the Rechargeable (cordless) that hit the market just a few years ago.
First, let's start with the obvious. This thing is a monster. It looks reasonable as a sports massager and ridiculous as a clitoral massager. I go to the gym frequently so I have found it helpful for sore muscles. But you're not here to hear me talk about it. Does it surprise me that a device so powerful to release tension from my tense muscles… can also be used on a tiny, sensitive clitoris with 8,000 nerve endings?
Look, I've tried a lot of sex toys, but none that look like a power tool…and have to be plugged into a real outlet. Exactly how powerful is this thing and will it bust my clit? I'm not going to lie to you, I'm really worried.
Feature Review
In terms of size and strength, I think it's safe to say that nothing can top this. This thing is powerful. If Wonder Woman wanted a little sex, I imagine this would be her weapon of choice.
As a vibrator, it is intended to stimulate the clitoris. It's not meant to be inserted anywhere, so you can already relax your pelvic muscles.
Its operation is very simple: both versions only have 3 buttons:
original magic wand: OFF, Speed 1, Speed 2
Rechargeable Magic Wand: ON/OFF, Speeds, Modes
The Magic Wand Original needs to be plugged into a power outlet, just like any other appliance. Unlike other sex toys, you won't have to worry about forgetting to charge it or change the batteries. It runs at 5,000 vibrations per minute at its lowest speed, and 6,000 vibrations per minute at its highest speed. Let it sink in for a minute.
The Rechargeable Magic Wand has 5 modes and the basic mode (constant vibration) has the option of 4 speeds. Being wireless, it's easier to move around, especially when playing with your partner(s). It's also portable, so you can take it with you if you feel like it, or use it in different parts of your house… on your desk while you work from home perhaps? It's more effective than a coffee break, that's for sure…umm, I can neither confirm nor deny speaking from personal experience.
The Original has a plastic head and the Rechargeable has a body-safe silicone head. These materials make them very easy to clean, although they are not waterproof or water resistant, so be careful and wipe the head gently with a damp cloth or toy cleaner.
The Magic Wand is very well made and will probably be the most durable and strong vibrator you will ever own.
USE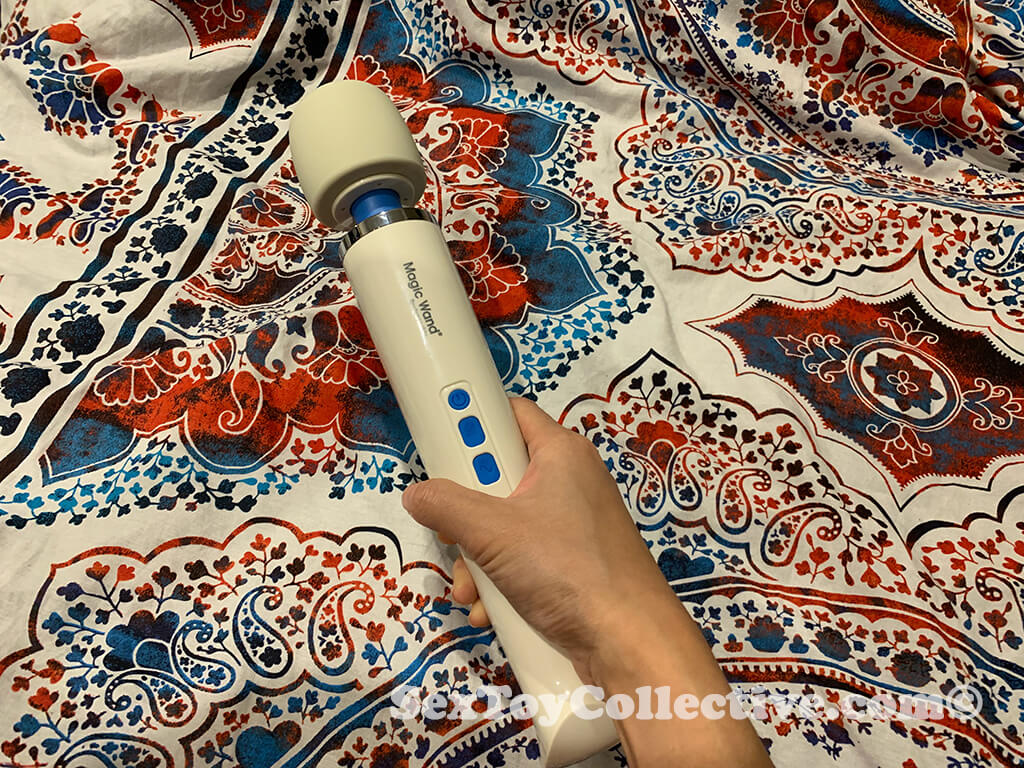 If you only get one thing out of this article, do it: DO NOT PUT IT DIRECTLY ON YOUR CLITORIS WHEN YOU FIRST USE IT. I know you're excited to play with your new toy, but please, this is something you need to warm up to. If your weight and size aren't enough of an indication, let me reiterate that you can't go from 0 to 100 with this device.
Warm up first with your hands or another toy, and when you're ready to elevate the experience, slowly introduce the Magic Wand. Start by wearing it over a protective layer like your underwear, pants, blanket, or towel. Get to know and understand its touch by sliding it over your body, over the nipples, inside the thighs, before taking it to the vulva. Once you feel comfortable with its touch (adjust the thickness of your protective sheet accordingly), get ready to feel its true magical potential. I personally reached orgasm in 2 minutes. And based on other reviews I've read, fast, intense orgasms seem to be a fairly common outcome in all cases.
This brings me to the paradox of this apparatus. As intimidating as it may seem, the fact that it facilitates orgasm makes it a viable option for first-time users, for example, people who have a hard time reaching orgasm or who have not had success with other wand vibrators.
The Original Magic Wand has been used in clinical studies to treat anorgasmia, a sexual dysfunction in which a person is unable to achieve orgasm. According to a study, the Magic Wand is the best method for women to reach orgasm, and another study of 500 chronically anorgasmic women found that 93% could orgasm using this wand vibrator. As a result, many sex therapists and counselors recommend the use of this toy to their clients. Additionally, in mainstream pop culture, such as in movies and magazines, he is often referred to as the Mother of All Vibrators.
Speaking of medical studies, the look and feel of this device also seems somewhat clinical, which may or may not be a problem depending on how you look at it. Not the prettiest sex toy ever… possibly even the ugliest. It looks like something you'd find at the dentist…heck, it looks like it could be part of the damn dentist's chair! But hey, I guess it could be useful for some doctor-patient role-playing. Seriously, I get that it was meant to be disguised as an appliance when it was first released... but this is 2019 and everyone knows what it really is...! Can we already have a proper design update?!
So if you've always equated "clit vibrators" with pretty little pink gadgets, you're going to have to literally expand your mind here. That being said, the size of this device makes it very easy to use. The handle provides a good grip, and there's no real risk of it slipping out of your hand. It is very easy to control and switch between modes. What I like most about all this is that the handle does not absorb vibrations: since the handle and head are separated by a flexible neck, the vibrations are concentrated in the head. There is nothing more annoying than feeling your whole hand absorb the vibrations when you try to press a toy against your clitoris.
Tips and tricks to use your Hitachi Magic Wand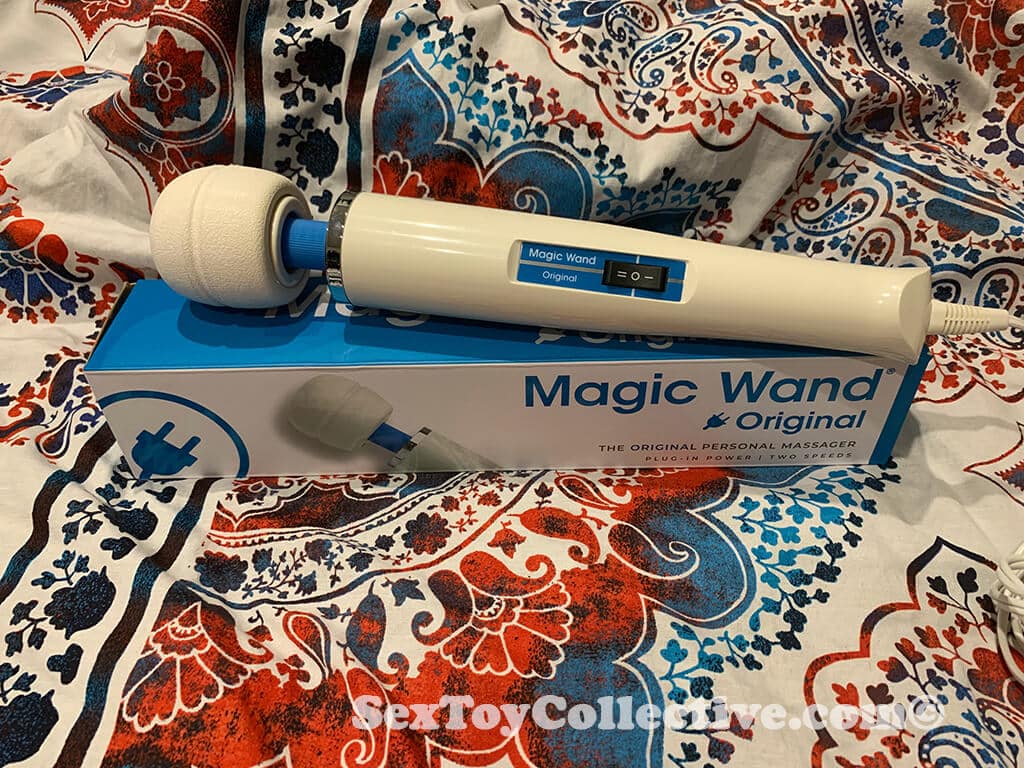 Despite its basic functionality, I have found that this device can be used in many surprising and creative ways.
Since the Magic Wand facilitates the achievement of orgasm, it offers the perfect opportunity to experiment with different positions. Most people tend to adopt a familiar position when masturbating, because it's the one they've tried and know will bring them to orgasm. This can make it difficult for you to come during sex with another person, since you may not be used to coming in positions other than your usual one. So change your position and experiment to give yourself pleasure from different angles. If you usually masturbate lying on your back, try lying on your stomach and let the Magic Wand work its magic. Do it on your side, standing up, sitting down, on your knees, on all fours... it's time to get all cirque du soleil with this. You might be surprised where this wand can take you.
You can also use this wand vibrator to provoke yourself by controlling your orgasms. Yes, it makes most people come quickly and easily, but not everyone is looking for a 2 minute experience.
The "edging" method could act as the ultimate provocation. When you're about to cum, turn it off and start again at the slowest speed to increase arousal. Again, when you're ready, turn it off. Turn it back on and play around with the different speeds as you move it across your vulva instead of focusing on one spot. This not only enhances your feeling of the experience, but is also practical. Concentrating that level of vibration at one point could cause numbness or discomfort from too much friction. Not ideal. So the idea is to repeatedly climax and take as long as you can. When you're absolutely ready to explode, drop the toy on your clit and unleash what is likely to be one of the most intense orgasms of your life.
This specific method also lends itself well to BDSM with a partner or partners. The Dom controls the Sub's orgasm, holding him down and then depriving or forcing him to orgasm.
Then there are some sexual encounters where people may feel pressured to make the person with the vulva come. Enter the Magic Wand, which will help them achieve it! Maybe you're in a group sex situation or having sex with a new partner… this could help eliminate the awkward "I don't want to cum until you do, but I'm not sure how to make you cum" situation. Even if you're in a long-term monogamous relationship, this could be helpful in partnered sex. Did you know that 75% women need clitoral stimulation during penetrative sex to reach orgasm? Most women don't come from penetration alone, which is why I'm a big advocate of using clitoral stimulators during penetration.
This last "alternative" use may surprise you. But don't criticize it until you've tried it. No, it was not a mistake. The Magic Wand, being a body massager, works to relax the muscles of the entire body... and your ass is not excluded. The main reason why most people find anal sex or any type of anal penetration painful and difficult is because they tighten the area and contract their sphincter muscles. If you're up for some anal sex, or perhaps want to introduce it to someone, consider giving her a body massage with it and move it slowly across her ass to relax the muscles in the area. make it sexy and functional. We do not realize the tension that we maintain there! With the zone relaxed, you now face less resistance to the entry. Relax, lube up, go slow and enter a new world of holes..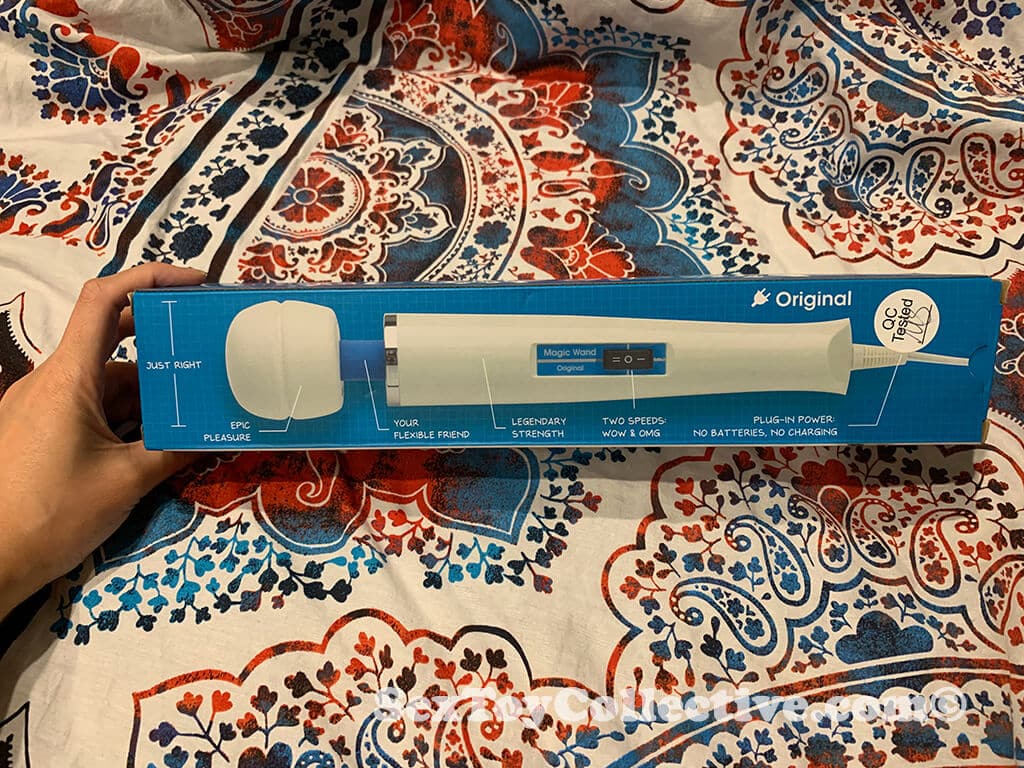 Rechargeable Magic Wand PROS
Provides an experience from start to finish - use for foreplay, during sex, and afterwards to relieve post-sex body pain.
Easy to use. Easy to fit. No high-tech bullshit or advanced knowledge needed.
Durable construction and high quality. If Hitachi can build world-famous military vehicles and air conditioners, you know this is legit.
Super fast and comfortable. Grab it off the nightstand, tuck it between your legs without removing your underwear, and you're on your way to a quick orgasm. Work done.
Multiple orgasms with minimal effort. Needless to say more.
CONS Rechargeable Magic Wand
Expensive. It's not the cheapest out there and that's why there are a lot of imitations out there and most are much cheaper. I have tried many of them and all I can say is that you get what you pay for.
It should come as no surprise that this thing is loud. If you have roommates, there is no discretion with this monster. Its large size also means it's not something you can easily hide. But we are in 2019, what is there to hide?... get it as if it were yours!
It is not suitable for travel. This bulky device weighs around 1.5kg, and if you have the Original, you'll need a compatible wall outlet or travel adapter. Not exactly the most comfortable thing to carry with you.
It is not waterproof. Unfortunately, you cannot use it in the shower or bathtub. When you clean it, you'll want to make sure no water runs down the neck, as it could damage the engine.
Limited modes and speed options. The lower speed option is already extremely intense, so you'll have to spend a bit of time figuring out how to make it work for you. You can simply use a piece of cloth to dampen vibrations; If not, there are a variety of third-party accessories you can get to control speed and augment its features.
Who is the Magic Wand best for?
This could be for you if….
Normal vibrators are not strong enough for you
You find yourself in situations where you want to cum quickly
You have a hard time reaching orgasm or have never had it before
Your muscles ache and you also enjoy a good body massage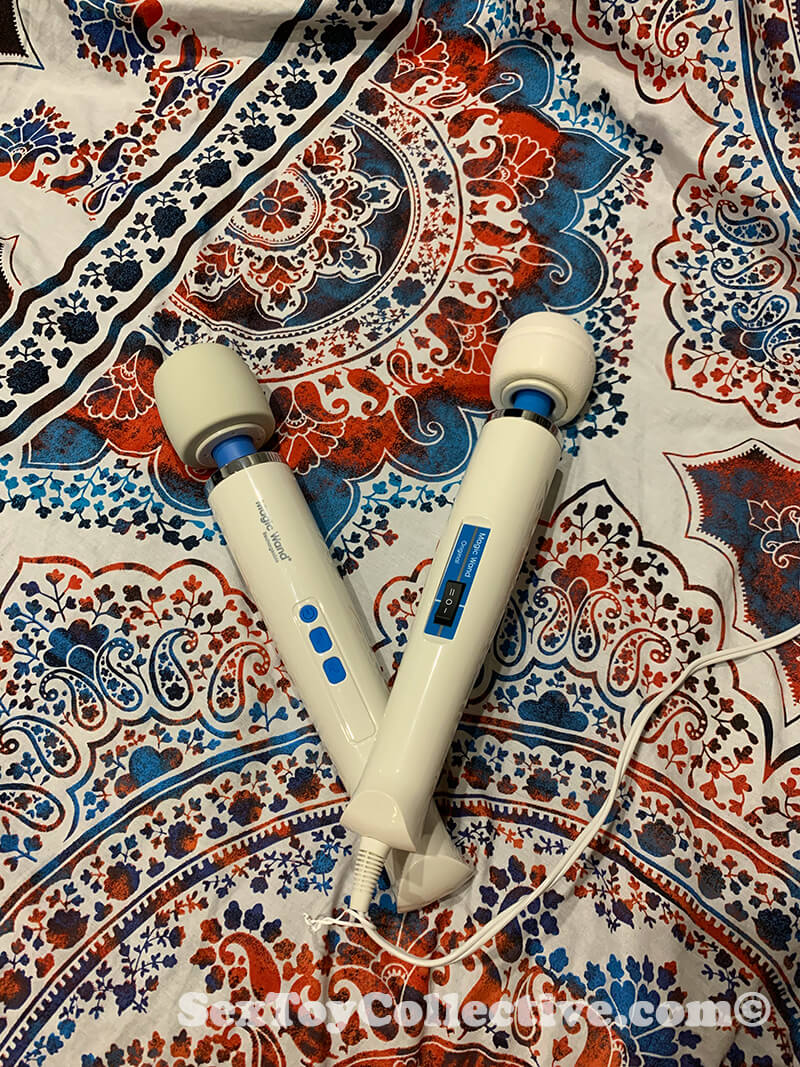 This may not be for you if...
with little budget
you have to be discreet
You don't like clitoral orgasms
Aesthetics are important to you – this is not sexy or "pretty"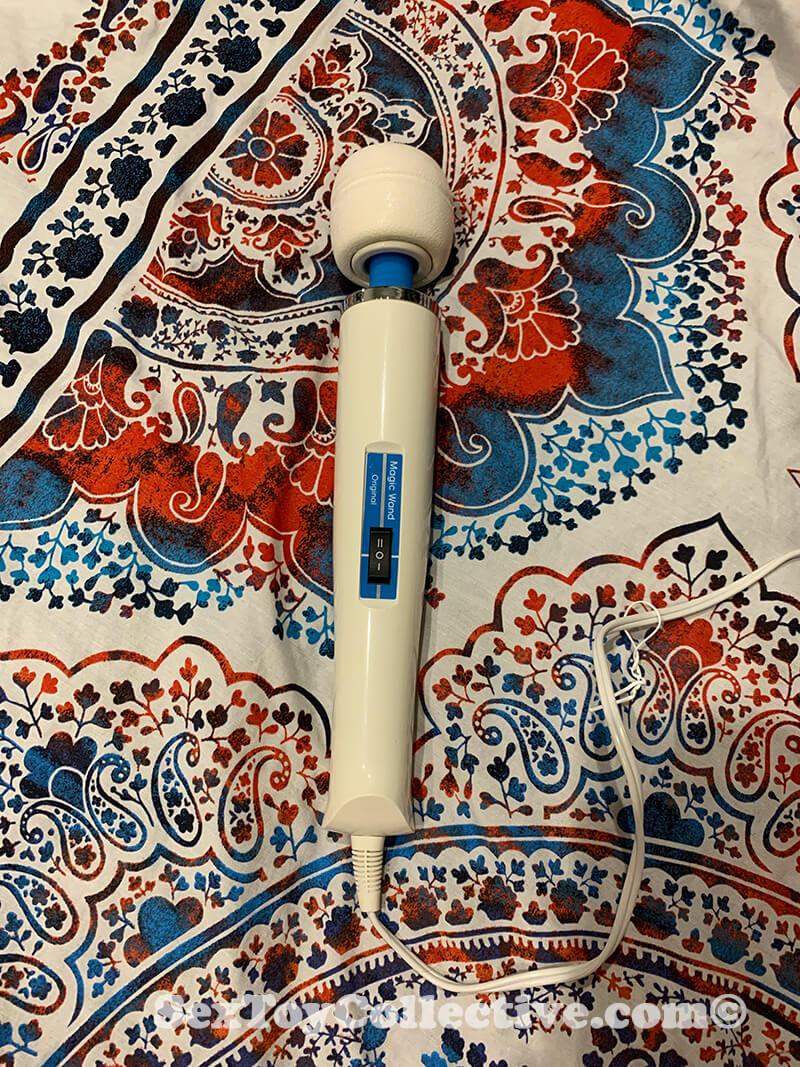 Magic Wand Review Final Verdict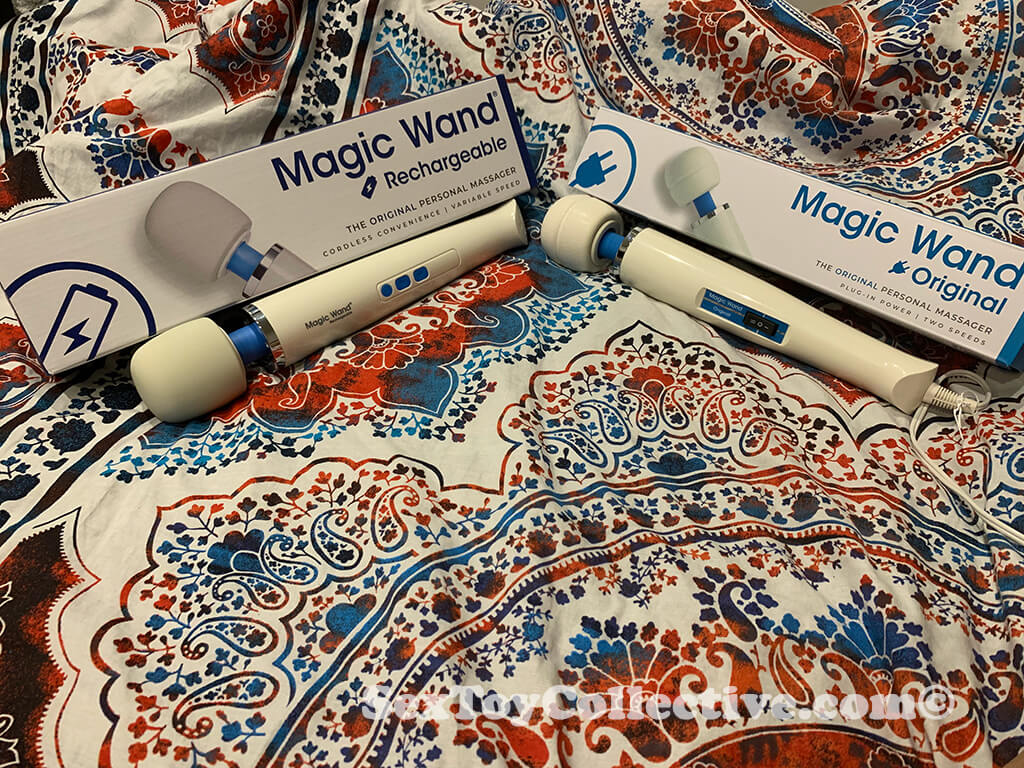 Yes. I appreciate the fact that this device has gone through half a century of product improvements to keep up with the best vibrators and the latest technology. I also respect the role you have played in debunking the stigma of female masturbation. And I think it's great that while it may seem intimidating, it's also accessible to first-time users and has helped women alleviate physiological disorders like anorgasmy.
I prefer the rechargeable version because it's more convenient without the cord and has more modes and options. Now it has its place on my nightstand. I often catch him for a quickie in the morning, so I get off on the right side of the bed (pun not intended). In less than 5 minutes I have dopamine and adrenaline coursing through my body and I'm ready to tackle whatever the day throws at me. I'm happier and healthier, and I think I have the Hitachi Magic Wand to thank for that.
I hope you liked this review If you are interested in getting a viewing this page at Shevibe.com to see the current price.

Leo Casanova is a recognized Clinical Sexologist and General Health Psychologist expert in the treatment of sexual disorders, sex addiction, aversion to sex and ejaculation disorder.
Its main areas of work are focused on the resolution of sexual and/or couple problems and sexological research and psychological. He has collaborated with different media such as: QUO, Cosmopolitan, AS, El País Digital and IDEAL and is the author of different scientific articles published in specialized sexology magazines and in others of general circulation.
Outstanding Academic Achievements
• Official Master's Degree in Sexology.
Diploma in Technological Innovation from the University of Oviedo (2015 – 2016).
Health research methodology by the Virgen de las Nieves Hospital (2012 – 2013).
Postgraduate in Sexology from the University of Almería (2018 – 2020).
We share guides on the best online stores for sex dolls, sex toys and tips and tricks on how to use them. One of our main goals is to help people learn how to identify trustworthy sites and avoid scams.
ACS Certified Sociologist and Sexologist who takes a holistic approach to sexuality. I believe that the mind, body, heart, and spirit all interact to create our sexual experiences, for better or worse! My work focuses on the influence of attachment and trauma (big and small) on sexuality and relationships and embodied and somatic approaches to healing sexual difficulties. I am a lifelong nerd who is always learning, but more importantly, I am a human being who just wanted to enjoy his sex life.
munecasexuales.com is a place where we share guides on the best sex dolls to buy online, online stores, sex toys and tips and tricks on how to use them. One of our main goals is to help people learn how to identify trustworthy sites and avoid scams.