Review of Buzz, a story of stimulating sex toys
A continuación, creó Doc Johnson en 1976, una empresa de consoladores y juguetes sexuales que sigue siendo enorme hoy en día (y que utiliza materiales cuestionables para juguetes sexuales). Para crearla, compró una empresa de consoladores llamada United Sales, la rebautizó como Doc Johnson y se hizo cargo de su fábrica en Los Ángeles. Doc Johnson es una de las empresas de consoladores más sospechosas en lo que se refiere a materiales dudosos, así que es lógico que tenga sus orígenes en el mismísimo padrino del porno.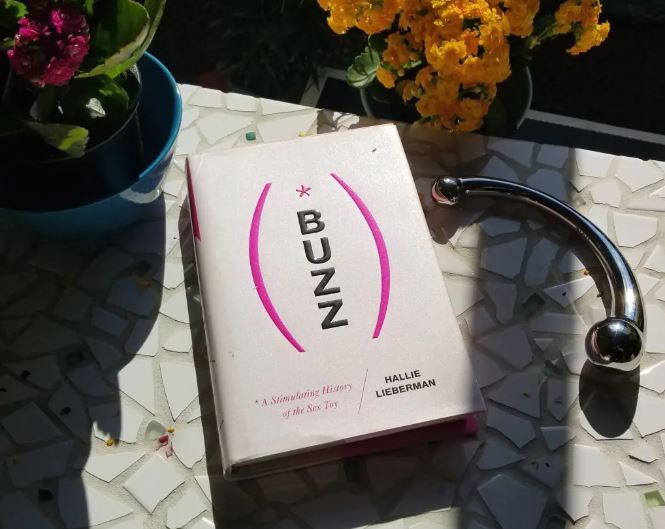 Aunque nunca se le acusó de extorsión u obscenidad, finalmente se le imputaron 15 cargos de evasión fiscal y fue condenado a 75 años de prisión en 1992.
En aquel momento estaba recién casado y enamorado. Su mujer y él acababan de tener su primera hija, y él se preparaba para jubilarse. Antes de ir a la cárcel, en 1992, se divorció de su mujer para protegerlos, dejando a su pequeña familia una gran fortuna.
En 1994, consiguió escapar de la cárcel a pie. Las autoridades empezaron a avisar a los aeropuertos, pensando que huiría del país, pero lo encontraron en una hamburguesería, donde estaba almorzando con su hija de 7 años. Resulta que pasó todas sus dos semanas de libertad pasando tiempo con ella. Me pareció un momento dulce en su intensa y despiadada vida.
Tras su recaptura, Sturman fue devuelto a prisión, donde murió en 1997, tenía 73 años.
Joani Blank y Buenas Vibraciones
Una mujer que asistió a los talleres de sexo corporal de Betty Dodson fue Joani Blank. Dodson llegó incluso a dibujarle los labios vaginales y a publicarlos en Liberating Masturbation.
Tras regresar a San Francisco, pronto puso en marcha Good Vibrations, un sex shop sólo para mujeres que vendía vibradores. Tenía un estilo de boutique y era realista, a Blank no le importaba tanto obtener beneficios como ayudar a las mujeres.
Good Vibrations pronto inspiró un movimiento de sex shops independientes propiedad de mujeres: Smitten Kitten, Babeland, Sugar, Come as you are, Grand Opening, Self Serve y muchos otros.
Mientras los hombres de la industria de los juguetes sexuales, como Sturman, parecían crear imperios y buscar beneficios. Las mujeres parecían crear movimientos y cambios sociales.
Joani Blank, fundadora de Good Vibrations
Gosnell Duncan, Inventor del Consolador de Silicona
Duncan es mi nuevo héroe personal. Antes de que existiera Etsy o Tumblr, creaba consoladores de silicona a mano en su sótano.
Tras un accidente en su taller de reparación de automóviles, quedó confinado en una silla de ruedas y fue incapaz de tener una erección. Se dio cuenta de que no estaba solo, algunas personas discapacitadas deseaban poder volver a tener relaciones sexuales, más que poder andar.
Duncan creó los primeros consoladores no metálicos con la ayuda de Dell Williams.
Experimentó con los consoladores con correa de PVC. Pero le disgustaban el olor y el tacto del material. Había utilizado a menudo piezas de silicona en su trabajo en automóviles, y pensó que sería un material estupendo para un consolador.
Pronto se puso a escribir cartas a los químicos de GE para informarse sobre cómo moldear y fundir silicona. Desarrolló un proceso en el que hacía un modelo de consolador con arcilla, vertía un molde a su alrededor y luego vertía silicona en el molde.
Llamó a su empresa Paramount Therapeutic Products, y empezó a vender sus consoladores por entre 20 y 40 dólares cada uno.
Se puso en contacto con Eve's Garden y Good Vibrations para ver si querían algo único. Juntos colaboraron para fabricar los primeros consoladores no metálicos que no parecían penes. También fueron los primeros consoladores que venían en distintos colores, como azul, rosa y caramelo.

Leo Casanova is a recognized Clinical Sexologist and General Health Psychologist expert in the treatment of sexual disorders, sex addiction, aversion to sex and ejaculation disorder.
Its main areas of work are focused on the resolution of sexual and/or couple problems and sexological research and psychological. He has collaborated with different media such as: QUO, Cosmopolitan, AS, El País Digital and IDEAL and is the author of different scientific articles published in specialized sexology magazines and in others of general circulation.
Outstanding Academic Achievements
• Official Master's Degree in Sexology.
Diploma in Technological Innovation from the University of Oviedo (2015 – 2016).
Health research methodology by the Virgen de las Nieves Hospital (2012 – 2013).
Postgraduate in Sexology from the University of Almería (2018 – 2020).
We share guides on the best online stores for sex dolls, sex toys and tips and tricks on how to use them. One of our main goals is to help people learn how to identify trustworthy sites and avoid scams.
ACS Certified Sociologist and Sexologist who takes a holistic approach to sexuality. I believe that the mind, body, heart, and spirit all interact to create our sexual experiences, for better or worse! My work focuses on the influence of attachment and trauma (big and small) on sexuality and relationships and embodied and somatic approaches to healing sexual difficulties. I am a lifelong nerd who is always learning, but more importantly, I am a human being who just wanted to enjoy his sex life.
munecasexuales.com is a place where we share guides on the best sex dolls to buy online, online stores, sex toys and tips and tricks on how to use them. One of our main goals is to help people learn how to identify trustworthy sites and avoid scams.